Liftgate
Manual Liftgate Operation
For vehicles without keyless access, unlock the vehicle before opening the liftgate.
Press the touch pad located in the handle of the liftgate, above the license plate, and lift up to open.
Do not press the touch pad while closing the liftgate. This will cause the liftgate to be unlatched.
Power Liftgate Operation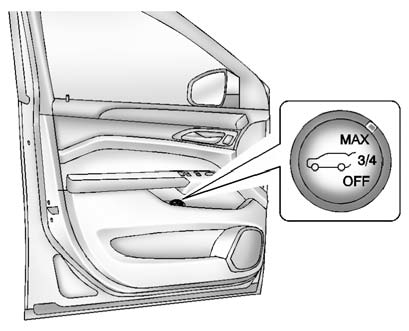 On vehicles with a power liftgate the switch is located on the driver door. The vehicle must be in P (Park) to use the power feature.
The taillamps flash when the power liftgate moves.
Choose the power liftgate mode by turning the dial on the switch until the indicator lines up with the desired position. Press the center of the switch.
See also:
How the System Works
When the vehicle is shifted into R (Reverse) the front and rear sensors are automatically turned on. After the vehicle is shifted out of R (Reverse), the rear sensors are turned off and the front ...
Treadwear
The treadwear grade is a comparative rating based on the wear rate of the tire when tested under controlled conditions on a specified government test course. For example, a tire graded 150 ...
Different Size Tires and Wheels
If wheels or tires are installed that are a different size than the original equipment wheels and tires, vehicle performance, including its braking, ride and handling characteristics, stabil ...