Battery Replacement
Notice: When replacing the battery, do not touch any of the circuitry on the transmitter.
Static from your body could damage the transmitter.
Replace the battery if the REPLACE BATTERY IN REMOTE KEY message displays in the DIC.
1. Press the button near the bottom of the transmitter and pull the key out.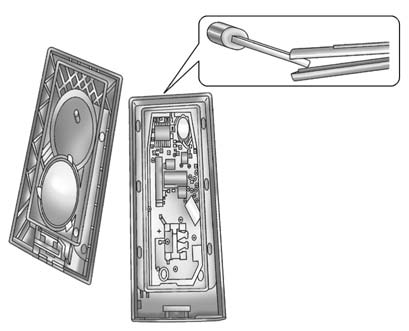 2. Use the key blade to separate the two halves of the transmitter.
3. Remove the old battery.
Do not use a metal object.
4. Insert the new battery, positive side facing down. Replace with a CR2032 or equivalent battery.
5. Snap the transmitter back together.
See also:
Cadillac Technician Roadside Service (U.S. Only)
Cadillac's exceptional Roadside Service is more than an auto club or towing service. It provides every Cadillac owner in the United States with the advantage of contacting a Cadillac advisor ...
Turn Signals When Towing a Trailer
The turn signal indicators on the instrument panel flash whenever signaling a turn or lane change. Properly hooked up, the trailer lamps also flash, telling other drivers the vehicle is turning, ...
Consistency of Readings
Always check the fluid level at least twice using the procedures described. Consistency (repeatable readings) is important to maintaining proper fluid level. If fluid is added, it may take 15 minu ...