Programming with a Recognized Transmitter
A new transmitter can be programmed to the vehicle when there is one recognized transmitter.
For vehicles sold in Canada, two recognized transmitters are required to program a new transmitter.
1. Make sure the vehicle is off.
2. Place the recognized transmitter(s) in the cupholder.
Have the new transmitter available with you.
3. Insert the vehicle key into the key lock cylinder located on the outside of the driver door.
4. Turn the key to the unlock position five times within five seconds.
5. The Driver Information Center (DIC) displays READY TO LEARN ELECTRONIC KEY #2, 3 or 4.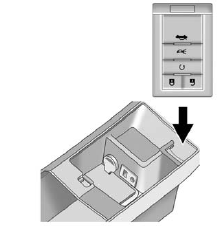 6. Place the new transmitter into the transmitter pocket with the buttons facing the front of the vehicle. The transmitter pocket is inside the center console storage area located between the driver and front passenger seats.
7. A beep sounds once the transmitter is programmed.
The DIC displays READY TO LEARN ELECTRONIC KEY #3 or 4, or MAXIMUM # ELECTRONIC KEYS LEARNED.
8. Press the ignition control knob to exit programming mode.
9. Remove the transmitter from the transmitter pocket and press

on the keyless access transmitter two times.
10. To program additional transmitters, repeat Steps 6 through 9.
See also:
Under the Hood
Like the regular all-wheel-drive Escalade and the Escalade ESV, the Escalade EXT uses a 6.0-liter V-8 that produces 345 horsepower and 380 pounds-feet of torque. The engine teams with a four-speed ...
Liftgate
Power Liftgate Vehicles with an automatic transmission must be in P (Park) and a manual transmission must be in Neutral to operate the power liftgate. To open the liftgate from inside, s ...
Trip A or Trip B
Displays the current distance traveled since the last reset for each trip odometer in either kilometers (km) or miles (mi). Both odometers can be used at the same time. Reset each trip odom ...