All-Wheel Drive
If your vehicle is equipped with all-wheel-drive, this is an additional system that needs lubrication.
Transfer Case
When to Check Lubricant
It is not necessary to regularly check the transfer case fluid unless you suspect there is a leak or you hear an unusual noise. A fluid loss could indicate a problem. Have it inspected and repaired.
How to Check Lubricant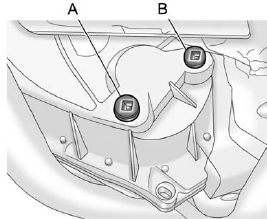 A. Drain Plug
B. Fill Plug
To get an accurate reading, the vehicle should be on a level surface.
If the level is below the bottom of the filler plug hole, located on the transfer case, you'll need to add some lubricant. Add enough lubricant to raise the level to the bottom of the filler plug hole.
Use care not to overtighten the plug.
What to Use
Refer to the Maintenance Schedule to determine what kind of lubricant to use. See Recommended Fluids and Lubricants.
See also:
Anti-theft Alarm System Messages
SERVICE THEFT DETERRENT SYSTEM This message displays when there is a problem with the theft-deterrent system programmed in the key. A fault has been detected in the system which means that t ...
Limit Features While Driving
The navigation system may have this feature. Touch the Limit Features While Driving screen button to turn the ability to limit functions on and off while driving. When this screen button is highli ...
Vehicle Identification Number (VIN)
Vehicle Identification Number (VIN) This legal identifier is in the front corner of the instrument panel, on the left side of the vehicle. It can be seen through the windshield from outside ...