Removing the Spare Tire and Tools (Sedan)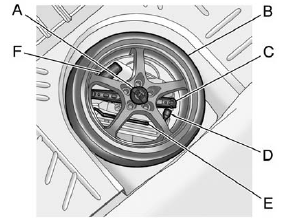 Sedan
A. Wing Nut
B. Spare Tire
C. Jack
D. Wheel Wrench
E. Extension (If Equipped)
F. Strap
To access the spare tire and jacking equipment:
1. Remove the spare tire cover.
2. Remove the foam cover, if equipped.
3. Remove the stow rod cap by pulling it straight up off of the rod.
4. Turn the wing nut (A) on the compact spare tire (B) counterclockwise to remove.
5. Remove the spare tire and place it next to the flat tire.
6. The tools you will be using next include the jack (C), wheel wrench (D), and extension (E), if the vehicle has one.
See also:
Initial Drive Information
This section provides a brief overview about some of the important features that may or may not be on your specific vehicle. For more detailed information, refer to each of the features which ...
Securing an Add-On Child Restraint in the Vehicle
WARNING A child can be seriously injured or killed in a crash if the child restraint is not properly secured in the vehicle. Secure the child restraint properly in the vehicle using the vehi ...
How to Add Coolant to the Surge Tank
WARNING You can be burned if you spill coolant on hot engine parts. Coolant contains ethylene glycol and it will burn if the engine parts are hot enough. Do not spill coolant on a hot engine ...