Cadillac CTS
Cadillac CTS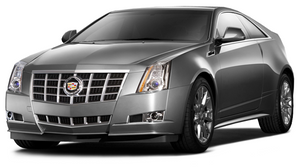 CTS Coupe is a 2-door, 4-passenger luxury coupe.
See also:
Loss of Control
Skidding There are three types of skids that correspond to the vehicle's three control systems: - Braking Skid — wheels are not rolling. - Steering or Cornering Skid — too much speed or s ...
Customer Assistance for Text Telephone (TTY) Users (U.S. and Canada)
To assist customers who are deaf, hard of hearing, or speech-impaired and who use Text Telephones (TTYs), Cadillac has TTY equipment available at its Customer Assistance Center. Any TTY user can com ...
Exterior
The Escalade EXT's styling closely resembles that of the regular Escalade. The headlights are incorporated into a single unit with rectangular parking lights and halogen fog lamps. The company's w ...