Storing the Flat Tire with a Flat Load Floor (Sedan)
1. Put back all tools as they were stored in the rear storage compartment and put the compartment cover back on.
2. Put the flat tire in the tire storage bag, if there is one.
3. Place the tire, lying flat, in the rear storage compartment.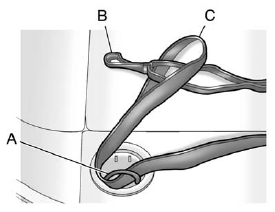 A. Cargo Tie-Down
B. Hook
C. Loop
4. Route the loop end of the strap (C) through one of the cargo tie-downs (A) located in the rear of the vehicle.
5. Route the hook (B) through the loop (C).
6. Pull the strap to tighten it around the cargo tie-down (A).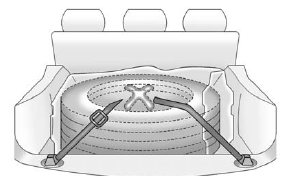 7. Route the hook end of the strap through the wheel.
8. Attach the hook to the cargo tie-down in the rear of the vehicle.
9. Slide the buckle to tighten the cargo tie-down strap.
See also:
What Makes an Airbag Inflate?
In a deployment event, the sensing system sends an electrical signal triggering a release of gas from the inflator. Gas from the inflator fills the airbag causing the bag to break out of the cover ...
Adaptive Forward Lighting (AFL) Light
This light should come on briefly as the vehicle is started. If it does not come on, have the vehicle serviced by your dealer. This light comes on solid when there is a problem with the Adapti ...
Storing and Deleting Phone Numbers
The system can store up to 30 phone numbers as name tags in the Hands—Free Directory that is shared between the Bluetooth and OnStar systems. The following commands are used to delete and store ph ...