Storing the Flat Tire with a Flat Load Floor (Sedan)
1. Put back all tools as they were stored in the rear storage compartment and put the compartment cover back on.
2. Put the flat tire in the tire storage bag, if there is one.
3. Place the tire, lying flat, in the rear storage compartment.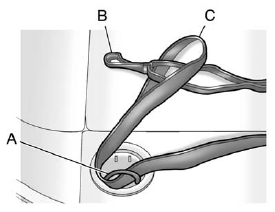 A. Cargo Tie-Down
B. Hook
C. Loop
4. Route the loop end of the strap (C) through one of the cargo tie-downs (A) located in the rear of the vehicle.
5. Route the hook (B) through the loop (C).
6. Pull the strap to tighten it around the cargo tie-down (A).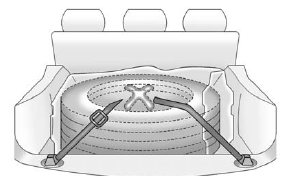 7. Route the hook end of the strap through the wheel.
8. Attach the hook to the cargo tie-down in the rear of the vehicle.
9. Slide the buckle to tighten the cargo tie-down strap.
See also:
Overview
The Escalade moves to the new GMT900 platform for the 2007 model year. Its introduction was accelerated as sales began slipping. The regular Escalade will be joined by a stretched ESV version as w ...
No Folder
When the CD contains only compressed files, the files are located under the root folder. The next and previous folder functions do not display on a CD that was recorded without folders or p ...
Seat Adjustment
WARNING You can lose control of the vehicle if you try to adjust a driver seat while the vehicle is moving. The sudden movement could startle and confuse you, or make you push a pedal when you do ...