Dolly Towing (Rear-Wheel-Drive Vehicles)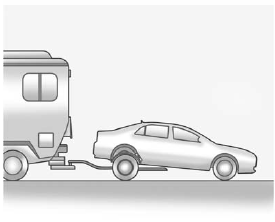 Use the following procedure to dolly tow a rear-wheel-drive vehicle from the rear:
1. Attach the dolly to the tow vehicle following the dolly manufacturer's instructions.
2. Put the rear wheels on the dolly.
3. Firmly set the parking brake.
See Parking Brake (Electric) or Parking Brake (Manual).
4. Put the vehicle in P (Park) for an automatic transmission or in 1 (First) for a manual transmission.
5. Securely attach the vehicle being towed to the dolly.
6. Clamp the steering wheel in a straight-ahead position with a clamping device designed for towing.
7. Turn the ignition to LOCK/OFF.
See also:
If the Vehicle Is Stuck
Slowly and cautiously spin the wheels to free the vehicle when stuck in sand, mud, ice, or snow. See "Rocking Your Vehicle to Get It Out" later in this section. If the vehicle has a traction system ...
Engine Cooling When Trailer Towing
The cooling system may temporarily overheat during severe operating conditions. See Engine Overheating. ...
How the System Works
URPA comes on automatically when the shift lever is moved into R (Reverse). A single tone sounds to indicate the system is working. URPA operates only at speeds less than 8 km/h (5 mph). An obstac ...