Tire Rotation and Required Services Every 12 000 km/7,500 mi
Rotate the tires, if recommended for the vehicle, and perform the following services. See Tire Rotation.
- Check engine oil level and oil life percentage. If needed, change engine oil and filter, and reset oil life system. See Engine Oil and Engine Oil Life System.
- Check engine coolant level.
See Engine Coolant.
- Check windshield washer fluid level. See Washer Fluid.
- Visually inspect windshield wiper blades for wear, cracking, or contamination. See Exterior Care. Replace worn or damaged wiper blades.
See Wiper Blade Replacement.
- Check tire inflation pressures.
See Tire Pressure.
- Inspect tire wear. See Tire Inspection.
- Visually check for fluid leaks.
- Inspect engine air cleaner filter.
See Engine Air Cleaner/Filter.
- Inspect brake system.
- Visually inspect steering, suspension, and chassis components for damaged, loose, or missing parts or signs of wear. See Exterior Care.
- Check restraint system components. See Safety System Check.
- Visually inspect fuel system for damage or leaks.
- Visually inspect exhaust system and nearby heat shields for loose or damaged parts.
- Lubricate body components.
See Exterior Care.
- Check starter switch. See Starter Switch Check.
- Check automatic transmission shift lock control function.
See Automatic Transmission Shift Lock Control Function Check.
- Check ignition transmission lock.
See Ignition Transmission Lock Check.
- Check parking brake and automatic transmission park mechanism. See Park Brake and P (Park) Mechanism Check.
- Check accelerator pedal for damage, high effort, or binding.
Replace if needed.
- Visually inspect gas strut for signs of wear, cracks, or other damage. Check the hold open ability of the strut. See your dealer if service is required.
- Check tire sealant expiration date, if equipped. See Tire Sealant and Compressor Kit.
- Inspect sunroof track and seal, if equipped. See Sunroof.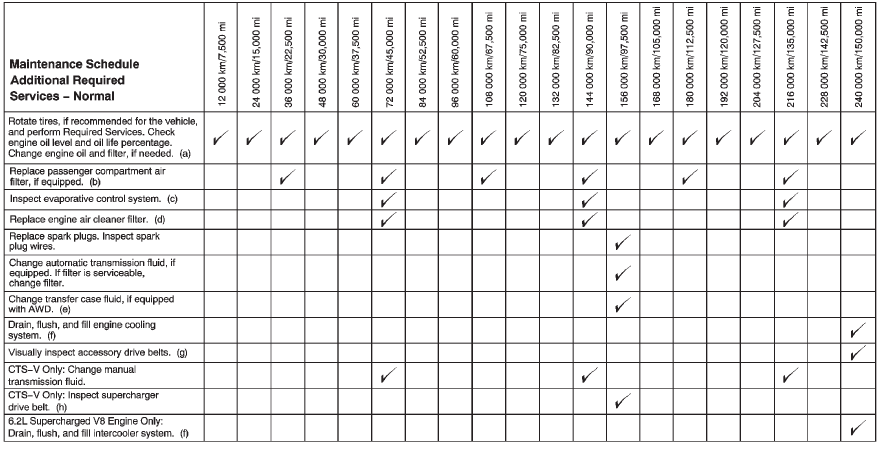 See also:
Drivetrains
Endowed with 202 horsepower and 191 pounds-feet of torque, the 2.5L accelerates from zero to 60 mph in roughly 7.5 seconds. It's a decent clip, but it feels poky sometimes because the car's suspen ...
A spirit of lightness and balance
Making the Cadillac ATS one of the segment's lightest cars was a fundamental criterion for and the guiding principle during its development, but it was done in a nuanced manner that ensures a refi ...
Questions and Answers About Safety Belts
Q: Will I be trapped in the vehicle after a crash if I am wearing a safety belt? A: You could be— whether you are wearing a safety belt or not. Your chance of being conscious during and afte ...