Steering Wheel Controls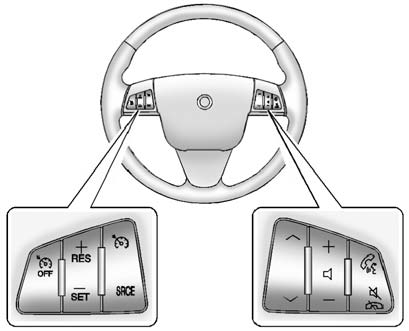 If available, some audio controls can be adjusted at the steering wheel.

or
: Press" width=18 height=16 id="_x0000_i1109" src="images/books/1183/1/index.80.gif" border=0>: Press

to select the next" width=21 height=17 id="_x0000_i1110" src="images/books/1183/1/index.81.gif" border=0>to select the next favorite radio station or next CD, DVD, if equipped, or MP3 track.
Press

to select the previous favorite radio station or previous CD, DVD, if equipped, or MP3 track.

: Press + to increase the volume, press − to decrease the volume.

Press to interact with the available Bluetooth, OnStar, or Navigation system.

Press to silence the vehicle speakers only. Press again to turn the sound on. For vehicles with OnStar or Bluetooth systems, press to reject an incoming call, or end a current call.
SRCE: Press to select an audio source.
For more information, see Steering Wheel Controls.
See also:
Automatic Transmission
Move the shift lever to P (Park) or N (Neutral). The engine will not start in any other position. To restart the engine when the vehicle is already moving, use N (Neutral) only. If the vehicl ...
How to Add Coolant to the Surge Tank
WARNING! You can be burned if you spill coolant on hot engine parts. Coolant contains ethylene glycol and it will burn if the engine parts are hot enough. Do not spill coolant on a hot engin ...
Passing Another Vehicle While Using Cruise Control
Use the accelerator pedal to increase the vehicle speed. When you take your foot off the pedal, the vehicle will slow down to the previous set cruise speed. ...