Steering Wheel Controls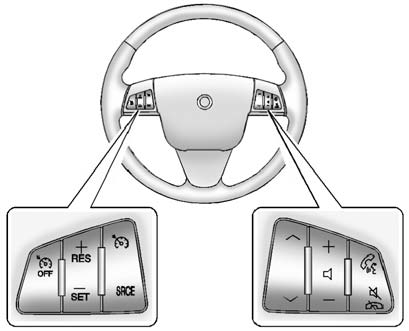 If available, some audio controls can be adjusted at the steering wheel.

or
: Press" width=18 height=16 id="_x0000_i1109" src="images/books/1183/1/index.80.gif" border=0>: Press

to select the next" width=21 height=17 id="_x0000_i1110" src="images/books/1183/1/index.81.gif" border=0>to select the next favorite radio station or next CD, DVD, if equipped, or MP3 track.
Press

to select the previous favorite radio station or previous CD, DVD, if equipped, or MP3 track.

: Press + to increase the volume, press − to decrease the volume.

Press to interact with the available Bluetooth, OnStar, or Navigation system.

Press to silence the vehicle speakers only. Press again to turn the sound on. For vehicles with OnStar or Bluetooth systems, press to reject an incoming call, or end a current call.
SRCE: Press to select an audio source.
For more information, see Steering Wheel Controls.
See also:
Manual Transmission Fluid
It is not necessary to check the manual transmission fluid level. A transmission fluid leak is the only reason for fluid loss. If a leak occurs, take the vehicle to a dealer for service. Have ...
How to Check Automatic Transmission Fluid
Notice: Too much or too little fluid can damage the transmission. Too much can mean that some of the fluid could come out and fall on hot engine parts or exhaust system parts, starting a fire. Too ...
Cruise Control
WARNING Cruise control can be dangerous where you cannot drive safely at a steady speed. So, do not use the cruise control on winding roads or in heavy traffic. Cruise control can be dangerou ...