Steering Wheel Controls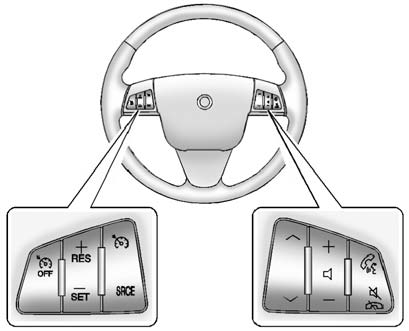 If available, some audio controls can be adjusted at the steering wheel.

or
: Press" width=18 height=16 id="_x0000_i1109" src="images/books/1183/1/index.80.gif" border=0>: Press

to select the next" width=21 height=17 id="_x0000_i1110" src="images/books/1183/1/index.81.gif" border=0>to select the next favorite radio station or next CD, DVD, if equipped, or MP3 track.
Press

to select the previous favorite radio station or previous CD, DVD, if equipped, or MP3 track.

: Press + to increase the volume, press − to decrease the volume.

Press to interact with the available Bluetooth, OnStar, or Navigation system.

Press to silence the vehicle speakers only. Press again to turn the sound on. For vehicles with OnStar or Bluetooth systems, press to reject an incoming call, or end a current call.
SRCE: Press to select an audio source.
For more information, see Steering Wheel Controls.
See also:
Windshield Wiper/Washer
The front and rear wiper controls are located on the turn and lane-change lever. Turn the band with the wiper symbol to control the windshield wipers. : For a single wipe, turn to , then release. ...
Footnotes — Maintenance Schedule Additional Required Services — Severe
a) Vehicles with different size front and rear tires do not have tire rotation. See Tire Rotation. b) Or every two years, whichever comes first. c) Check all fuel and vapor lines and hoses f ...
GM Mobility Reimbursement Program (U.S. and Canada)
This program is available to qualified applicants for cost reimbursement of eligible aftermarket adaptive equipment required for the vehicle, such as hand controls or a wheelchair/ scooter lift ...