Steering Wheel Controls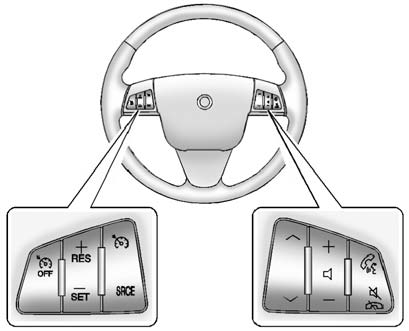 If available, some audio controls can be adjusted at the steering wheel.

or
: Press" width=18 height=16 id="_x0000_i1109" src="images/books/1183/1/index.80.gif" border=0>: Press

to select the next" width=21 height=17 id="_x0000_i1110" src="images/books/1183/1/index.81.gif" border=0>to select the next favorite radio station or next CD, DVD, if equipped, or MP3 track.
Press

to select the previous favorite radio station or previous CD, DVD, if equipped, or MP3 track.

: Press + to increase the volume, press − to decrease the volume.

Press to interact with the available Bluetooth, OnStar, or Navigation system.

Press to silence the vehicle speakers only. Press again to turn the sound on. For vehicles with OnStar or Bluetooth systems, press to reject an incoming call, or end a current call.
SRCE: Press to select an audio source.
For more information, see Steering Wheel Controls.
See also:
Delayed Locking
With this feature, you can delay the actual locking of the doors. When the power door lock switch is pressed when the key is not in the ignition and the driver door is opened, a chime will so ...
Door Locks
There are several ways to lock and unlock the vehicle. From outside, use the Remote Keyless Entry (RKE) transmitter or the key in the driver door. From inside, use the power door locks or the manu ...
SERVICE POWER STEERING
This message displays if a problem is detected with the speed variable assist steering system. When this message is displayed, you may notice that the effort required to steer the vehicle in ...