Cruise Control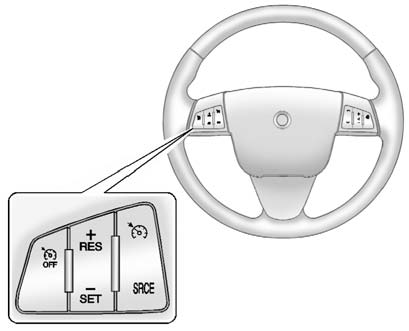 Press to turn cruise control on and off.
+ RES: Press briefly to make the vehicle resume to a previously set speed or press and hold to accelerate.
−SET: Press to set the speed and activate cruise control or make the vehicle decelerate.

OFF: Press to disengage cruise control without erasing the set speed from memory.
See Cruise Control.
See also:
Using ABS
Do not pump the brakes. Just hold the brake pedal down firmly and let ABS work. You might hear the ABS pump or motor operating and feel the brake pedal pulsate, but this is normal. ...
Airbag System Messages
SERVICE AIR BAG This message displays if there is a problem with the airbag system. Have your dealer inspect the system for problems. See Airbag Readiness Light and Airbag System&nbsp ...
Checking Engine Oil
It is a good idea to check the engine oil level at each fuel fill. In order to get an accurate reading, the vehicle must be on level ground. The engine oil dipstick handle is a yellow loop. See En ...