Cruise Control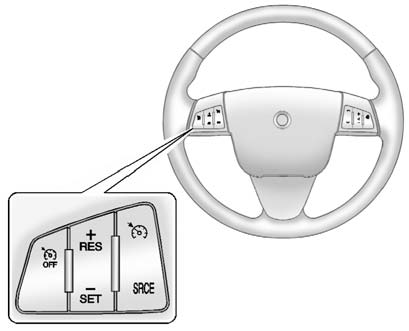 Press to turn cruise control on and off.
+ RES: Press briefly to make the vehicle resume to a previously set speed or press and hold to accelerate.
−SET: Press to set the speed and activate cruise control or make the vehicle decelerate.

OFF: Press to disengage cruise control without erasing the set speed from memory.
See Cruise Control.
See also:
Courtesy Rental Vehicle
Your dealer may arrange to provide you with a courtesy rental vehicle or reimburse you for a rental vehicle that you obtain if the vehicle is kept for an overnight warranty repair. Rental rei ...
Windshield and Wiper Blades
Clean the outside of the windshield with glass cleaner. Clean rubber blades using lint-free cloth or paper towel soaked with windshield washer fluid or a mild detergent. Wash the windshield thoroug ...
Hood
To open the hood: 1. Pull the handle with this symbol on it. It is located inside the vehicle to the lower left of the steering wheel. 2. Then go to the front of the vehicle and locate the sec ...