Folding Mirrors
Manual Folding Mirrors
Vehicles with manual fold mirrors are folded inward toward the vehicle to prevent damage when going through an automatic car wash.
Push the mirror outward to return it to the original position.
Power Folding Mirrors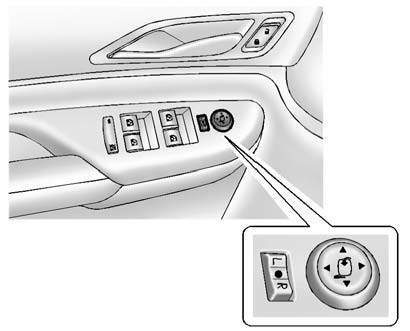 Vehicles with power folding mirrors, to fold the mirrors:
1. With the selector switch in the
position, press the down arrow on the" width=18 height=17 id="_x0000_i1182" src="images/books/1183/1/index.125.gif" border=0>position, press the down arrow on the control pad. Both mirrors will automatically fold.
2. Pressing the down arrow again will return the mirrors to their original position.
Resetting the Power Folding Mirrors
Reset the power folding mirrors if:
- The mirrors are accidentally obstructed while folding.
- They are accidentally manually folded/unfolded.
- The mirrors do not stay in the unfolded position.
- The mirrors vibrate at normal driving speeds.
Fold and unfold the mirrors one time using the mirror controls to reset them to their normal position.
A noise may be heard during the resetting of the power folding mirrors. This sound is normal after a manual folding operation.
See also:
Roadside Service (U.S. and Canada)
U.S.: 1-800-224-1400 Canada: 1-800-882-1112. Text Telephone (TTY) Users (U.S. Only): 1-888-889-2438. Service is available 24 hours a day, 365 days a year. ...
Questions and Answers About Safety Belts
Q: Will I be trapped in the vehicle after a crash if I am wearing a safety belt? A: You could be— whether you are wearing a safety belt or not. Your chance of being conscious during and afte ...
If a Tire Goes Flat
It is unusual for a tire to blow out while driving, especially if the tires are maintained properly. See Tires . If air goes out of a tire, it is much more likely to leak out slowly. But if ...