Folding Mirrors
Manual Folding Mirrors
Vehicles with manual fold mirrors are folded inward toward the vehicle to prevent damage when going through an automatic car wash.
Push the mirror outward to return it to the original position.
Power Folding Mirrors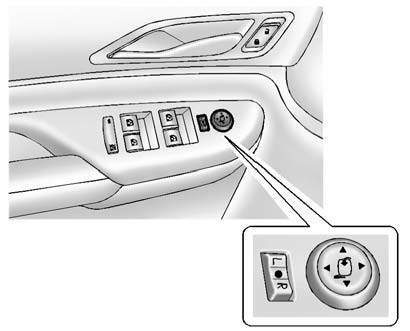 Vehicles with power folding mirrors, to fold the mirrors:
1. With the selector switch in the
position, press the down arrow on the" width=18 height=17 id="_x0000_i1182" src="images/books/1183/1/index.125.gif" border=0>position, press the down arrow on the control pad. Both mirrors will automatically fold.
2. Pressing the down arrow again will return the mirrors to their original position.
Resetting the Power Folding Mirrors
Reset the power folding mirrors if:
- The mirrors are accidentally obstructed while folding.
- They are accidentally manually folded/unfolded.
- The mirrors do not stay in the unfolded position.
- The mirrors vibrate at normal driving speeds.
Fold and unfold the mirrors one time using the mirror controls to reset them to their normal position.
A noise may be heard during the resetting of the power folding mirrors. This sound is normal after a manual folding operation.
See also:
Maintenance Records
After the scheduled services are performed, record the date, odometer reading, who performed the service, and the type of services performed in the boxes provided. Retain all maintenance receipts. ...
Remote Control
To use the remote control, aim at the remote sensor located on top center of the video display screen and press the desired button. Objects blocking the line-of-sight can affect the function of the ...
Theft-Deterrent Feature
TheftLock® is designed to discourage theft of the vehicle's radio by learning a portion of the Vehicle Identification Number (VIN). The radio does not operate if it is stolen or moved to a dif ...