Anti-Pinch Feature
If an object is in the path of the sunroof when it is closing, the anti-pinch feature detects the object and stops the sunroof from closing at the point of the obstruction. The sunroof then returns to the full-open position.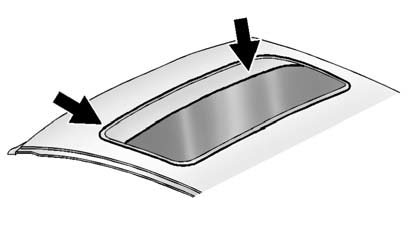 Dirt and debris may collect on the sunroof seal or in the track. This could cause an issue with sunroof operation, noise, or plugging the water drainage system. Periodically open the sunroof and remove any obstacles or loose debris. Wipe the sunroof seal and roof sealing area using a clean cloth, mild soap, and water. Do not remove grease from the sunroof.
See also:
Locking Rear Axle
Vehicles with a locking rear axle can give more traction on snow, mud, ice, sand, or gravel. It works like a standard axle most of the time, but when traction is low, this feature will allow the r ...
If No Steam Is Coming from the Engine Compartment
If an engine overheat warning is displayed but no steam can be seen or heard, the problem may not be too serious. Sometimes the engine can get a little too hot when the vehicle: - Climbs a long h ...
Manual Operation of Power Liftgate
To change the liftgate to manual operation, turn the mode switch to the OFF position. With the power liftgate disabled and all of the doors unlocked, the liftgate can be manually opened and close ...