Heated Rear Seats
WARNING
If you cannot feel temperature change or pain to the skin, the seat heater may cause burns even at low temperatures.
See the Warning under Heated and Ventilated Front Seats.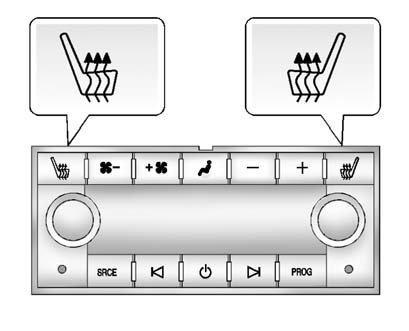 If available, the buttons are on the Rear Sear Audio (RSA) panel on the rear of the center console.
With the ignition in ON/RUN/START, press

to heat the left or" width=57 height=18 id="_x0000_i1213" src="images/books/1183/2/index.56.gif" border=0>to heat the left or right outboard seat cushion and seatback. An indicator on the RSA display appears when this feature is on.
Press the button once for the highest setting. With each press of the button, the heated seat changes to the next lower setting, and then the off setting. Three lights indicate the highest setting, and one light indicates the lowest.
See also:
Customer Assistance for Text Telephone (TTY) Users (U.S. and Canada)
To assist customers who are deaf, hard of hearing, or speech-impaired and who use Text Telephones (TTYs), Cadillac has TTY equipment available at its Customer Assistance Center. Any TTY user ...
Heated Steering Wheel
: Press to turn the heated steering wheel on or off. A light on the button displays when the feature is turned on. The steering wheel takes about three minutes to start heating. ...
Fuel E85 (85% Ethanol)
Vehicles that have a FlexFuel badge and a yellow fuel cap can use either unleaded gasoline or ethanol fuel containing up to 85% ethanol (E85). See Fuel E85 (85% Ethanol). For all other vehicles, u ...