Lower Anchor and Top Tether Anchor Locations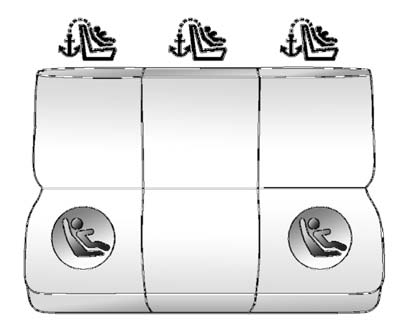 " width=409 height=331 id="_x0000_i1243" src="images/books/1183/2/index.86.gif" border=0>
Rear Seat

(Top Tether Anchor): Seating positions with top tether anchors.

(Lower Anchor): Seating positions with two lower anchors.

To assist you in locating the lower anchors, each seating position with lower anchors has two labels, near the crease between the seatback and the seat cushion.

To assist you in locating the top tether anchors, the top tether anchor symbol is located on the cover.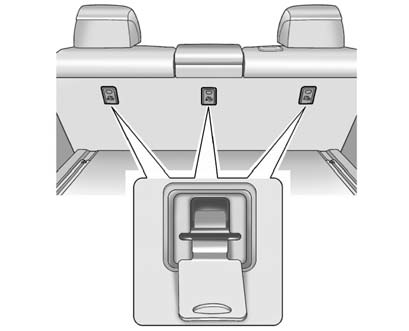 " width=409 height=331 id="_x0000_i1248" src="images/books/1183/2/index.91.gif" border=0>
Top Tether An
The top tether anchors for each rear seating position are located under the covers, on the back of the rear seatback. Be sure to use an anchor located on the same side of the vehicle as the seating position where the child restraint will be placed.
Do not secure a child restraint in a position without a top tether anchor if a national or local law requires that the top tether be attached, or if the instructions that come with the child restraint say that the top tether must be attached.
According to accident statistics, children and infants are safer when properly restrained in a child restraint system or infant restraint system secured in a rear seating position. See Where to Put the Restraint for additional information.
See also:
Vehicle Overview
Cadillac's Escalade ESV offers more room for those who find the Escalade, a full-size SUV, just a bit too small. Its wheelbase is 14 inches longer than the full-size Escalade, and its total length ...
Parking on Hills
WARNING Parking the vehicle on a hill with the trailer attached can be dangerous. If something goes wrong, the rig could start to move. People can be injured, and both the vehicle and the trailer ...
Power Outlets
The accessory power outlets can be used to plug in electrical equipment, such as a cell phone or MP3 player. The vehicle has four accessory power outlets. The power outlets located below the clim ...