Install the Cargo Cover
1. Hold the cartridge so that the pull-out shade faces the rear of the vehicle.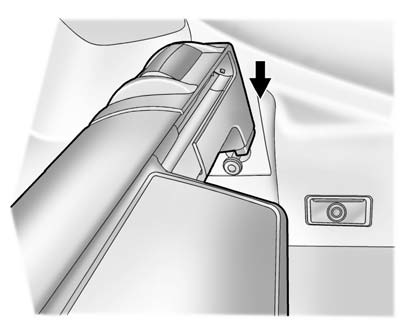 2. Align the cartridge over the pins on the trim panels of the vehicle.
3. Push down on the cartridge to snap it into place.
4. Unroll the shade toward the rear of the vehicle.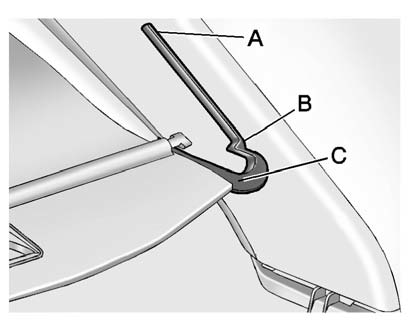 5. Insert the shade pins in the channels (C) on both sides.
6. Slide the shade to the lower (B) position, or the halfway open (A) position.
See also:
Infants and Young Children
Everyone in a vehicle needs protection! This includes infants and all other children. Neither the distance traveled nor the age and size of the traveler changes the need, for everyone, to use safety ...
Dinghy Towing
Notice: If the vehicle is towed with all four wheels on the ground, the drivetrain components could be damaged. The repairs would not be covered by the vehicle warranty. Do not tow the veh ...
Reporting Safety Defects to the Canadian Government
If you live in Canada, and you believe that the vehicle has a safety defect, notify Transport Canada immediately, and notify General Motors of Canada Limited. Call Transport Canada at 1-800-333-05 ...