Fuel Gauge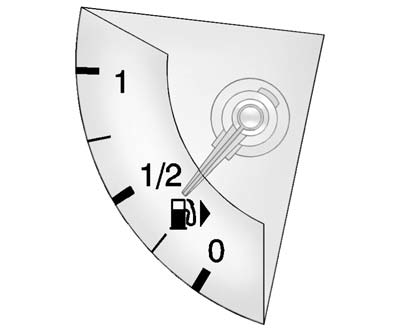 " width=409 height=331 id="_x0000_i1313" src="images/books/1183/3/index.53.gif" border=0>
Metric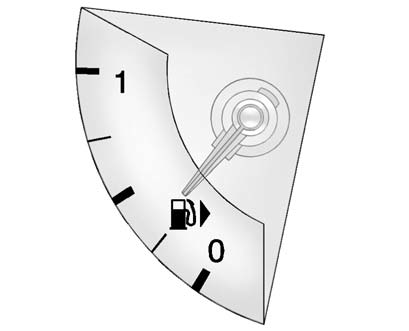 " width=409 height=331 id="_x0000_i1314" src="images/books/1183/3/index.54.gif" border=0>
English
When the ignition is on, the fuel gauge indicates about how much fuel is left in the tank.
An arrow on the fuel gauge indicates the side of the vehicle the fuel door is on.
When the indicator nears empty, the low fuel light comes on. There still is a little fuel left, but the vehicle should be refueled soon.
Here are four things that some owners ask about. None of these show a problem with the fuel gauge:
- At the service station, the fuel pump shuts off before the gauge reads full.
- It takes a little more or less fuel to fill up than the gauge indicated. For example, the gauge may have indicated the tank was half full, but it actually took a little more or less than half the tank's capacity to fill the tank.
- The gauge moves a little while turning a corner or speeding up.
- The gauge takes a few seconds to stabilize after the ignition is turned on, and goes back to empty when the ignition is turned off.
See also:
Care of CDs and DVDs
If playing a CD/DVD, the sound quality can be reduced due to disc quality, the method of recording, the quality of the music that has been recorded, and the way the disc has been handled. Ha ...
Replacing Safety Belt System Parts after a Crash
WARNING! A crash can damage the safety belt system in the vehicle. A damaged safety belt system may not properly protect the person using it, resulting in serious injury or even death in a ...
Time Shifting — Pause and Rewind Live XM
The Radio with DVD Audio, HDD, and USB has the ability to rewind 60 minutes of XM content. While listening to the radio, the content from the current station is always being buffered to the ...