Brake System Warning Light
The vehicle brake system consists of two hydraulic circuits.
If one circuit is not working, the remaining circuit can still work to stop the vehicle. For normal braking performance, both circuits need to be working.
If the warning light comes on, there is a brake problem. Have the brake system inspected right away.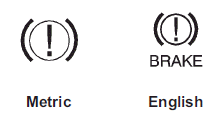 The brake indicator light should come on briefly as the engine is started. If it does not come on have the vehicle serviced by your dealer.
WARNING
The brake system might not be working properly if the brake system warning light is on.
Driving with the brake system warning light on can lead to a crash. If the light is still on after the vehicle has been pulled off the road and carefully stopped, have the vehicle towed for service.
If the light comes on while driving, a chime sounds. Pull off the road and stop. The pedal might be harder to push or go closer to the floor. It might also take longer to stop. If the light is still on, have the vehicle towed for service. See Towing the Vehicle.
See also:
Fabric/Carpet
Start by vacuuming the surface using a soft brush attachment. If a rotating brush attachment is being used during vacuuming, only use it on the floor carpet. Before cleaning, gently remove as ...
Different Size Tires and Wheels
If wheels or tires are installed that are a different size than the original equipment wheels and tires, vehicle performance, including its braking, ride and handling characteristics, stability, a ...
Safety Locks (Sedan and Wagon)
The vehicle has rear door security locks. These prevent passengers from opening the rear doors from the inside. Lock Label shown The rear door security locks are located on the inside edge ...