Turn and Lane-Change Signals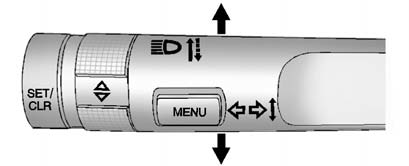 An arrow on the instrument panel cluster will flash in the direction of the turn or lane change.
Move the lever all the way up or down to signal a turn.
Raise or lower the lever until the arrow starts to flash to signal a lane change. The turn signal flashes three times.
The lever returns to its starting position when it is released.
If after signaling a turn or lane change the arrow flashes rapidly or does not come on, a signal bulb may be burned out.
Replace any burned out bulbs.
If the bulb is not burned out, check the fuse. See Fuses and Circuit Breakers for more information.
See also:
Power Door Locks
Select Power Door Locks and the following will be displayed: - Unlocked Door Anti Lock Out - Auto Door Unlock - Delayed Door Lock ...
Cruise Control
Press to turn cruise control on and off. + RES: Press briefly to make the vehicle resume to a previously set speed or press and hold to accelerate. −SET: Press to set the speed and ac ...
Manual Operation of Power Liftgate
To change the liftgate to manual operation, turn the mode switch to the OFF position. With the power liftgate disabled and all of the doors unlocked, the liftgate can be manually opened and close ...