Turn and Lane-Change Signals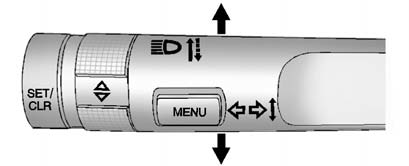 An arrow on the instrument panel cluster will flash in the direction of the turn or lane change.
Move the lever all the way up or down to signal a turn.
Raise or lower the lever until the arrow starts to flash to signal a lane change. The turn signal flashes three times.
The lever returns to its starting position when it is released.
If after signaling a turn or lane change the arrow flashes rapidly or does not come on, a signal bulb may be burned out.
Replace any burned out bulbs.
If the bulb is not burned out, check the fuse. See Fuses and Circuit Breakers for more information.
See also:
Tire Rotation and Required Services Every 12 000 km/7,500 mi
Rotate the tires, if recommended for the vehicle, and perform the following services. See Tire Rotation. - Check engine oil level and oil life percentage. If needed, change engine oil and f ...
Anti-theft Alarm System
This vehicle has an anti-theft alarm system. The LED light, located on the instrument panel near the windshield, indicates the status of the system. Arming the System 1. Close all doors, lif ...
Special Application Services
. Severe Commercial Use Vehicles Only: Lubricate chassis components every 5 000 km/3,000 mi. - Have underbody flushing service performed once a year. ...