Video Screens
The video screens are located in the back of the driver and front passenger seats.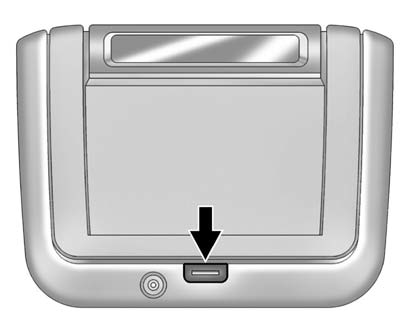 To use the video screen:
1. Push the release button located on the seatback console.
2. Move the screen to the desired viewing position.
Push the video screen down into its locked position when it is not in use.
The screen turns off automatically.
Only the left RSE seatback console contains the infrared transmitters for the wireless headphones.
They may be visible as eight illuminated LEDs. These LEDs are not on the right video screen.
Both seatback consoles contain an infrared receiver for the remote control. They are located at the top of each console.
Notice: Avoid directly touching the video screen, as damage may occur. See "Cleaning the Video Screens" later in this section for more information.
See also:
Manual Transmission Fluid
It is not necessary to check the manual transmission fluid level. A transmission fluid leak is the only reason for fluid loss. If a leak occurs, take the vehicle to a dealer for service. Have ...
Headlamp Aiming
The headlamp aiming system has been preset at the factory. If the vehicle is damaged in an accident, the aim of the headlamps can be affected and adjustment could be necessary. It is recommende ...
Tire Sealant and Compressor Kit
WARNING Idling a vehicle in an enclosed area with poor ventilation is dangerous. Engine exhaust may enter the vehicle. Engine exhaust contains carbon monoxide (CO) which cannot be seen or smelled. ...