Video Screens
The video screens are located in the back of the driver and front passenger seats.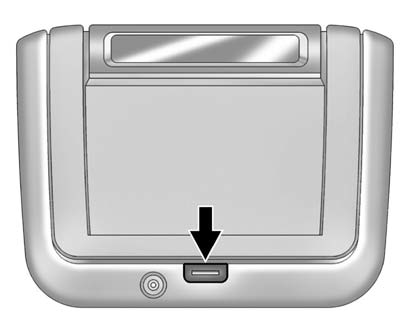 To use the video screen:
1. Push the release button located on the seatback console.
2. Move the screen to the desired viewing position.
Push the video screen down into its locked position when it is not in use.
The screen turns off automatically.
Only the left RSE seatback console contains the infrared transmitters for the wireless headphones.
They may be visible as eight illuminated LEDs. These LEDs are not on the right video screen.
Both seatback consoles contain an infrared receiver for the remote control. They are located at the top of each console.
Notice: Avoid directly touching the video screen, as damage may occur. See "Cleaning the Video Screens" later in this section for more information.
See also:
Engine Oil Additives/Engine Oil Flushes
Do not add anything to the oil. The recommended oils with the dexos specification and displaying the dexos certification mark are all that is needed for good performance and engine protection. ...
StabiliTrak® OFF Light
This light should come on briefly as the vehicle is started. If it does not come on, have the vehicle serviced by your dealer. This light comes on when the StabiliTrak system is turned off by ...
Address Entry
Address Entry: Enter either a city or street to use the address entry destination method. To enter a destination by inputting the city name first: 1. Press DEST. 2. Select (Address Entry). 3. ...