Video Screens
The video screens are located in the back of the driver and front passenger seats.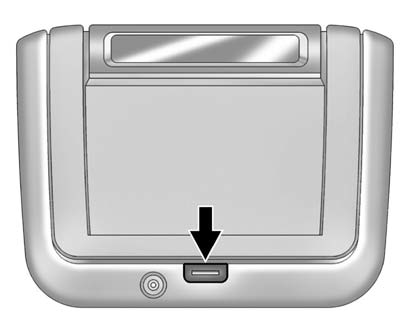 To use the video screen:
1. Push the release button located on the seatback console.
2. Move the screen to the desired viewing position.
Push the video screen down into its locked position when it is not in use.
The screen turns off automatically.
Only the left RSE seatback console contains the infrared transmitters for the wireless headphones.
They may be visible as eight illuminated LEDs. These LEDs are not on the right video screen.
Both seatback consoles contain an infrared receiver for the remote control. They are located at the top of each console.
Notice: Avoid directly touching the video screen, as damage may occur. See "Cleaning the Video Screens" later in this section for more information.
See also:
Deleting Personal Information
This navigation system can record and store personal information such as names and addresses. Delete this information when selling your vehicle or returning a leased vehicle. See "Edit Address Boo ...
Fuel
Use of the recommended fuel is an important part of the proper maintenance of this vehicle. To help keep the engine clean and maintain optimum vehicle performance, we recommend the use of gasoline ...
Increasing Speed While Using Cruise Control
If the cruise control system is already activated, . Press and hold the +RES button on the steering wheel until the desired speed is reached, then release it. . To increase vehicle speed in small ...