Off-Road Recovery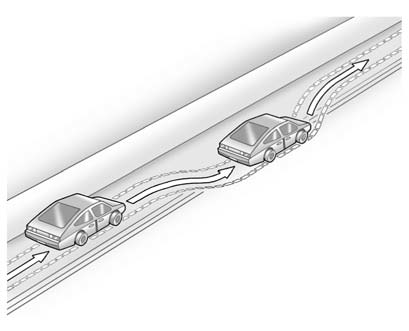 The vehicle's right wheels can drop off the edge of a road onto the shoulder while driving.
Follow these tips:
1. Ease off the accelerator and then, if there is nothing in the way, steer the vehicle so that it straddles the edge of the pavement.
2. Turn the steering wheel about one-eighth of a turn, until the right front tire contacts the pavement edge.
3. Then turn the steering wheel to go straight down the roadway.
See also:
Climate Controls
The heating, cooling, and ventilation for the vehicle can be controlled with this system. A. Display B. Fan C. Power D. AUTO (Automatic Operation) E. PASS (Passenger Climate Control) F. Defr ...
Services Provided
- Flat Tire Change: If unable to change a flat tire, Roadside Assistance will provide towing service to the nearest authorized Cadillac dealership. It is the owner's responsibility for the ...
Tire Rotation and Required Services Every 12 000 km/ 7,500 mi
Rotate the tires, if recommended for the vehicle, and perform the following services. See Tire Rotation . Check engine oil level and oil life percentage. If needed, change engine oil an ...