Power Steering Fluid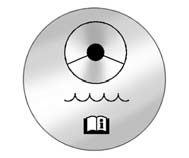 See Engine Compartment Overview for reservoir location.
When to Check Power Steering Fluid
It is not necessary to regularly check power steering fluid unless a leak is suspected in the system or unusual noise is heard. A fluid loss in this system could indicate a problem. Have the system inspected and repaired.
How to Check Power Steering Fluid
Notice: Extremely small amounts of contamination can cause steering system damage and cause it to not work properly.
Do not allow contaminants to contact the fluid side of the reservoir cap/dipstick or to enter the reservoir.
To check the power steering fluid:
1. Turn the engine off and let the engine compartment cool down.
2. Remove the engine cover, if required. See Engine Cover.
3. Wipe the cap and the top of the reservoir clean.
4. Unscrew the cap and wipe the dipstick with a clean rag.
5. Replace the cap and completely tighten it.
6. Remove the cap again and look at the fluid level on the dipstick.
The level should be within the HOT mark. If necessary, add only enough fluid to bring the level within the mark.
What to Use
To determine what kind of fluid to use, see Recommended Fluids and Lubricants. Always use the proper fluid.
See also:
Overheated Engine Protection Operating Mode
This operating mode allows the vehicle to be driven to a safe place in an emergency. Should a hot engine condition exist, an overheat protection mode which alternates firing groups of cylind ...
Vehicle Messages
Messages displayed on the DIC indicate the status of the vehicle or some action may be needed to correct a condition. Multiple messages may appear one after another. The messages that do not requir ...
Tire Rotation and Required Services Every 12 000 km/7,500 mi
Rotate the tires, if recommended for the vehicle, and perform the following services. See Tire Rotation. - Check engine oil level and oil life percentage. If needed, change engine oil and f ...