Throttle and Brake Pedal Adjustment
The vehicle has adjustable throttle and brake pedals that allow you to change their positions.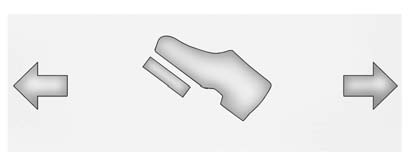 The switch used to adjust the pedals is located on the center console below the climate control system.
Press the right and left arrows to move the pedals either closer or further from your body.
See Adjustable Throttle and Brake Pedal .
See also:
Tire Terminology and Definitions
Air Pressure: The amount of air inside the tire pressing outward on each square inch of the tire. Air pressure is expressed in kPa (kilopascal) or psi (pounds per square inch). Accessory Weight: ...
Driver Information Center (DIC)
The DIC display is located in the center of the instrument panel cluster. It shows the status of many vehicle systems. The controls for the DIC are located on the turn signal lever. A. SET/CL ...
Brake System Warning Light
The vehicle brake system consists of two hydraulic circuits. If one circuit is not working, the remaining circuit can still work to stop the vehicle. For normal braking performance, both cir ...