Windshield Wiper/Washer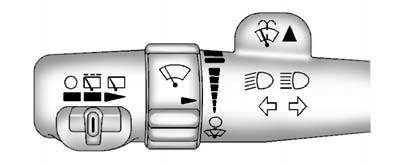 The front and rear wiper controls are located on the turn and lane-change lever.
Turn the band with the wiper symbol to control the windshield wipers.

: For a single wipe, turn to

, then release. For several wipes, hold the band on

longer.

: Turns the windshield wipers off.

: Turn the band up for more frequent wipes or down for less frequent wipes.

: Slow wipes.

: Fast wipes.

: Push the paddle at the top of the lever to spray washer fluid on the windshield.
Rear Wiper Window Wiper/Washer
To turn the rear wiper on, slide the lever to a wiper position.

: Turns the wiper off.

: Turns on the rear wiper delay.

: Turns on the rear wiper.

: Press the button on the end of the lever to spray washer fluid on the rear window.
See Windshield Wiper/Washer and Rear Window Wiper/Washer .
See also:
Storing and Deleting Phone Numbers
The system can store up to 30 phone numbers as name tags in the Hands-Free Directory that is shared between the Bluetooth and OnStar systems. The following commands are used to delete and s ...
Initial Drive Information
This section provides a brief overview about some of the important features that may or may not be on your specific vehicle. For more detailed information, refer to each of the features which can ...
Windshield
For safety, appearance, and the best viewing, keep the windshield clean and clear. - Signs of damage include scratches, cracks, and chips. - Trained dealer technicians can inspect the windsh ...