Power Seat Adjustment

WARNING
You can lose control of the vehicle if you try to adjust a driver seat while the vehicle is moving. The sudden movement could startle and confuse you, or make you push a pedal when you do not want to. Adjust the driver seat only when the vehicle is not moving.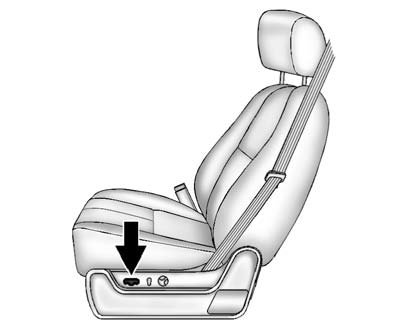 To adjust a power seat:
Move the seat forward or rearward by sliding the control forward or rearward.
Raise or lower the front or rear part of the seat cushion by moving the front or rear of the control up or down.
Raise or lower the entire seat by moving the entire control up or down.
To adjust the seatback, see Reclining Seatbacks .
See also:
Public Transportation or Fuel Reimbursement
If the vehicle requires overnight warranty repairs, and public transportation is used instead of your dealer's shuttle service, the expense must be supported by original receipts and can onl ...
Door Locks
WARNING Unlocked doors can be dangerous. Passengers, especially children, can easily open the doors and fall out of a moving vehicle. When a door is locked, the handle will not open it. T ...
Automatic Transmission Fluid
How to Check Automatic Transmission Fluid It is not necessary to check the transmission fluid level. A transmission fluid leak is the only reason for fluid loss. If a leak occurs, take the v ...