Folding and Tumbling the Seat from the Third Row Seat

WARNING
Using the third row seating position while the second row is folded, or folded and tumbled, could cause injury in a sudden stop or crash. Be sure to return the seat to the passenger seating position. Push and pull on the seat to make sure it is locked into place.
To fold and tumble the seat from the third row seat, if equipped:
1. Make sure that there is nothing under, in front of, or on the seat.
Notice: Folding a rear seat with the safety belts still fastened may cause damage to the seat or the safety belts. Always unbuckle the safety belts and return them to their normal stowed position before folding a rear seat.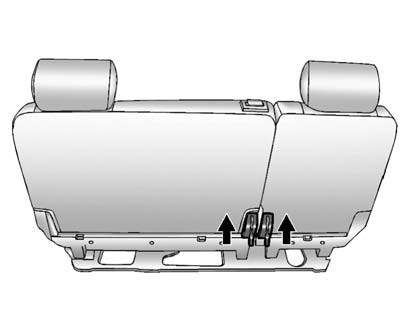 60/40 Split-Bench Seat Shown, Bucket Seat Similar
2. Lift the lever, on the bottom rear of the second row seat on the inboard side, to release the seatback. The seatback will fold forward.
3. Lift the same lever again to release the rear of the seat from the floor. The seat will tumble forward.
See also:
Interior
The ESV's extended dimensions don't yield significant gains for first- or second-row occupants, but third-row passengers gain nearly 10 inches of legroom. Cargo volume behind the third row increas ...
Finish Care
Application of aftermarket clearcoat sealant/wax materials is not recommended. If painted surfaces are damaged, see your dealer to have the damage assessed and repaired. Foreign materials such as ...
Leaving After Parking on a Hill
1. Apply and hold the brake pedal while you: 1.1. Start the engine. 1.2. Shift into a gear. 1.3. Release the parking brake. 2. Let up on the brake pedal. 3. Drive slowly until the trailer is ...