Folding the Seatback
To fold the seatback:
1. Open the liftgate to access the controls for the seat.
2. Remove all items on the seat cushion.
Notice: Folding a rear seat with the safety belts still fastened may cause damage to the seat or the safety belts. Always unbuckle the safety belts and return them to their normal stowed position before folding a rear seat.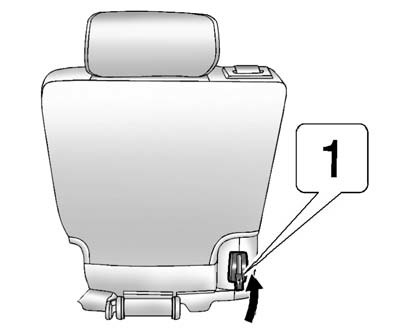 3. Lift the release lever У1Ф. on the bottom rear of the seatback on the outboard side of the seat, and the seatback folds forward.
See also:
Starting the Vehicle with a Low Transmitter Battery
If the transmitter battery is weak, the DIC may display NO REMOTE DETECTED when you try to start the vehicle. The REPLACE BATTERY IN REMOTE KEY message may also be displayed at this time. To star ...
Vehicles Without a Navigation System
When the vehicle is on and the driver shifts into R (Reverse), the video image automatically appears on the inside rearview mirror. Once the driver shifts out of R (Reverse), the video image automat ...
Form follows function
The Cadillac CTS-V Coupe's design is a clear visual statement of the technical precision and performance intent of the car. The Cadillac CTS-V Coupe has the same wheelbase as the CTS-V Sport Sedan ...