Universal Remote System Programming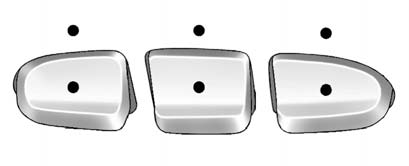 Vehicles with the Universal Remote System will have these buttons located in the headliner.
This system provides a way to replace up to three remote control transmitters used to activate devices such as garage door openers, security systems, and home automation devices.
Do not use this system with any garage door opener that does not have the stop and reverse feature. This includes any garage door opener model manufactured before April 1, 1982.
Read the instructions completely before attempting to program the transmitter. Because of the steps involved, it may be helpful to have another person assist with programming the transmitter.
Be sure to keep the original remote control transmitter for use in other vehicles, as well as for future programming. Only the original remote control transmitter is needed for Fixed Code programming.
The programmed buttons should be erased when the vehicle is sold or the lease ends. See УErasing Universal Home Remote ButtonsФ in this section.
Park the vehicle outside of the garage when programming a garage door. Be sure that people and objects are clear of the garage door or gate that is being programmed.
See also:
Headlamp Aiming
The vehicle has a visual optical headlamp aiming system. The aim of the headlamps have been preset at the factory and should need no further adjustment. However, if the vehicle is damaged in a cras ...
What Makes an Airbag Inflate?
In a deployment event, the sensing system sends an electrical signal triggering a release of gas from the inflator. Gas from the inflator fills the airbag causing the bag to break out of the cover ...
Driving Characteristics and Towing Tips
WARNING! The driver can lose control when pulling a trailer if the correct equipment is not used or the vehicle is not driven properly. For example, if the trailer is too heavy, the brakes m ...