Universal Remote System Programming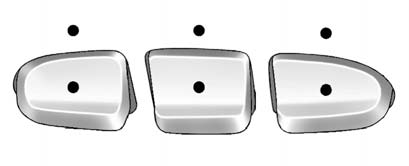 Vehicles with the Universal Remote System will have these buttons located in the headliner.
This system provides a way to replace up to three remote control transmitters used to activate devices such as garage door openers, security systems, and home automation devices.
Do not use this system with any garage door opener that does not have the stop and reverse feature. This includes any garage door opener model manufactured before April 1, 1982.
Read the instructions completely before attempting to program the transmitter. Because of the steps involved, it may be helpful to have another person assist with programming the transmitter.
Be sure to keep the original remote control transmitter for use in other vehicles, as well as for future programming. Only the original remote control transmitter is needed for Fixed Code programming.
The programmed buttons should be erased when the vehicle is sold or the lease ends. See "Erasing Universal Home Remote Buttons" in this section.
Park the vehicle outside of the garage when programming a garage door. Be sure that people and objects are clear of the garage door or gate that is being programmed.
See also:
Verify Minutes and Expiration
Push and say "minutes" then "verify" to check how many minutes remain and their expiration date. ...
Driving for Better Fuel Economy
Driving habits can affect fuel mileage. Here are some driving tips to get the best fuel economy possible. - Avoid fast starts and accelerate smoothly. - Brake gradually and avoid abrupt stops. - ...
Ending a Call
Turn or press the MENU/SELECT knob and select Hang Up. ...