Finding a Station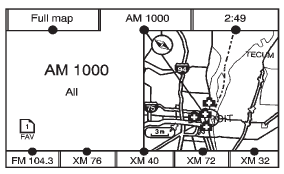 AM Source Shown, Other Sources Similar
If viewing a map screen, press the source screen (AM, FM, XM (if equipped), CD, etc.) button. The display splits between the audio screen and the map screen. All station-changing functions can be performed from this screen.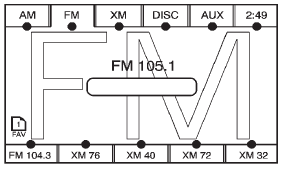 FM Source Shown, Other Sources Similar
If you do not want to view a split screen or you are not on a map screen, press AUDIO.
AM/FM/XM: Press the source (AM, FM, or XM, if equipped) screen button or press AUDIO repeatedly until the desired source is highlighted.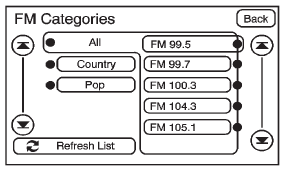 FM Source Shown, Other Sources Similar
Category: Press the screen button, located in the middle of the screen, to get a list of all the selected band stations in the area. Use the up and down arrows to scroll the frequencies. Press the desired frequency.
XM (if equipped) lists also contain a category to select and the stations or channels that have broadcasts that relate to that category. For XM (if equipped), press the left and right arrow screen buttons to change categories. The station information appears on the display. See "Radio Menu" in this section to add and remove XM categories from the category list. Removed categories do not appear on the category list screen or when the right and left arrow category screen buttons are used.
FM lists may also contain a category to select if stations in the broadcast area support Radio Data Systems (RDS).

Refresh List: Press to refresh the list of AM or FM stations.
When viewing a map screen, the name of the station or channel displays.

or

(Seek/Scan):
1. To seek stations, press the up or down arrows to go to the next or previous station.
2. To scan stations, press and hold either arrow for more than two seconds. The radio goes to a station, plays for a few seconds, then goes to the next station.
3. To stop scanning, press either arrow again.
Press the AUDIO button on the faceplate to display the audio screen. Press again to switch between the audio sources. Select XM (if equipped).
See also:
Safety, Reliability & Mileage
The Cadillac SRX is an Insurance Institute for Highway Safety Top Safety Pick, meaning it received the top rating, Good, in front, side and rear crash tests, as well as a roof-strength test. For t ...
Address Entry
Address Entry: Enter either a city or street to use the address entry destination method. To enter a destination by inputting the city name first: 1. Press DEST. 2. Select (Address Entry). 3. ...
Pairing
A Bluetooth—enabled cell phone must be paired to the Bluetooth system and then connected to the vehicle before it can be used. See your cell phone manufacturer's user guide for Bluetooth functions ...