SBZA Detection Zones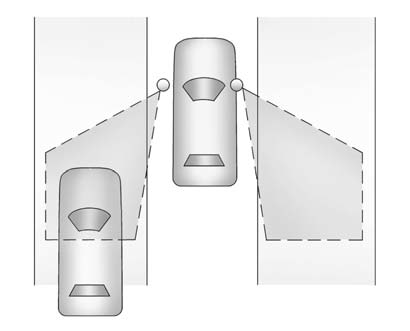 The SBZA sensor covers a zone of approximately one lane over from both sides of the vehicle, 3.5m (11 ft). This zone starts at each side mirror and goes back approximately 5.0m(16 ft). The height of the zone is approximately between 0.5m(1.5 ft) and 2.0m(6 ft) off the ground.
Use caution while changing lanes when towing a trailer, as the SBZA detection zones do not change when a trailer is towed.
See also:
Leaving After Parking on a Hill
1. Apply and hold the brake pedal. 2. Start the engine. 3. Shift into a gear. 4. Release the parking brake. 5. Let up on the brake pedal. 6. Drive slowly until the trailer is clear of the chocks. ...
Testing the Alarm
To test the alarm: 1. From inside the vehicle, lower the driver window and open the driver door. 2. Activate the system by locking the doors with the power door lock switch while the door is open, ...
Deleting Personal Information
This navigation system can record and store personal information such as names and addresses. Delete this information when selling your vehicle or returning a leased vehicle. See "Edit Address Boo ...