Replacement Bulbs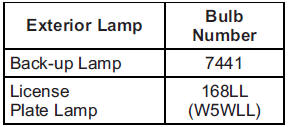 For replacement bulbs not listed here, contact your dealer.
See also:
2013 Cadillac ATS: First Drive
Taking on the leader in any sport, market or prison yard is ballsy and — for those who aspire to greatness — an excellent strategy. Talking trash, on the other hand, might be a pointless and foolh ...
Vehicle Overview
Cadillac takes another step into rear-wheel-drive territory with its new STS sedan, which replaces the front-wheel-drive Seville. Built on a Sigma-based architecture, like the automaker's smaller ...
Fog Lamps
For vehicles with fog lamps, they can be used for better vision in foggy or misty conditions. The parking lamps and/or low-beam headlamps must be on for the fog lamps to work. The fog lamp butt ...