Cruise Control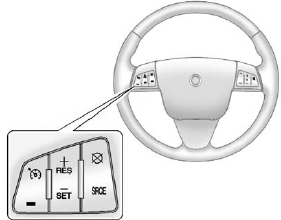 CTS Shown, CTS–V Similar
The cruise control buttons are located on the left side of the steering wheel.

: Press to turn the system on or off. The indicator light on the button turns on when cruise control is on.
+RES: Press to make the vehicle accelerate or resume to a previously set speed.
−SET: Press to set the speed or make the vehicle decelerate.

: Press to cancel cruise control without erasing the set speed from memory.
See Cruise Control.
See also:
Vehicle Security
This vehicle has theft-deterrent features; however, they do not make it impossible to steal. ...
Vehicle Symbol Chart
Here are some additional symbols that may be found on the vehicle and what they mean. For more information on the symbol, refer to the Index. : Adjustable Pedals : Airbag Readiness Light : Air ...
Other Rainy Weather Tips
Besides slowing down, other wet weather driving tips include: Allow extra following distance. Pass with caution. Keep windshield wiping equipment in good shape. Keep the windshield washer fl ...