Thigh Support Adjustment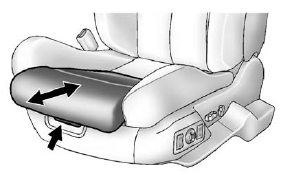 If available, adjust the manual leg extension by reaching under it, in the pocketed area. Press the button and pull or push to lengthen or shorten it. Release the button to lock it in place.
See also:
Airbag Readiness Light
This light shows if there is an electrical problem with the airbag system. The system check includes the airbag sensor(s), passenger sensing system, the pretensioners, the airbag modules, the wiring ...
Service Publications Ordering Information
Service Manuals Service Manuals have the diagnosis and repair information on the engines, transmission, axle, suspension, brakes, electrical, steering, body, etc. Service Bulletins Service B ...
Cruise Control Light
The cruise control light is white whenever the cruise control is set, and turns green when the cruise control is active. The light turns off when the cruise control is turned off. See Cruise ...