Heated and Ventilated Front Seats
WARNING!
If you cannot feel temperature change or pain to the skin, the seat heater may cause burns even at low temperatures.
To reduce the risk of burns, people with such a condition should use care when using the seat heater, especially for long periods of time. Do not place anything on the seat that insulates against heat, such as a blanket, cushion, cover, or similar item. This may cause the seat heater to overheat.
An overheated seat heater may cause a burn or may damage the seat.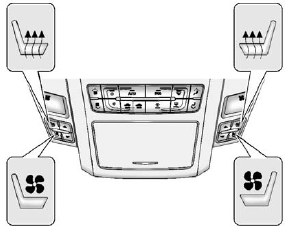 Heated and Ventilated Seat Buttons Shown, Heated Seat Buttons Similar
If available, the buttons are on the climate control panel. To operate, the ignition must be on.

(Heated Seat): Press to heat the seat.

(Ventilated Seat): If available, press to ventilate the seat.
Press the button once for the highest setting. With each press of the button, the seat will change to the next lower setting, and then to the off setting. The lights on the climate control display indicate three for the highest setting and one for the lowest.
The passenger seat may take longer to heat up.
The heated and/or ventilated seats are canceled after the ignition is turned off.
Remote Start Heated Seats
During a remote start, the heated seats may turn on, depending upon the outside temperature. They are canceled when the ignition is turned on. Press the button to use the heated seats after the vehicle is started.
The indicator lights on the climate control display do not turn on during a remote start.
The temperature performance of an unoccupied seat may be reduced.
See Remote Vehicle Start.
See also:
Battery Replacement
To change the batteries: 1. Loosen the screw to the battery door located on the left side of the headphones. 2. Slide the battery door open. 3. Replace the two AAA batteries. 4. Replace the bat ...
Tire Terminology and Definitions
Air Pressure: The amount of air inside the tire pressing outward on each square inch of the tire. Air pressure is expressed in kPa (kilopascal) or psi (pounds per square inch). Accessory We ...
Manual Operation of Power Liftgate
To change the liftgate to manual operation, turn the mode selector switch to OFF. With the power liftgate disabled and all of the doors unlocked, the liftgate can be manually opened and clo ...