Lower Anchor and Top Tether Anchor Locations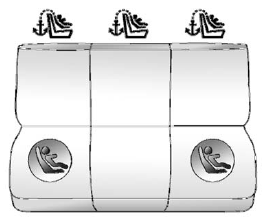 Rear Seat Ц Sedan or Wagon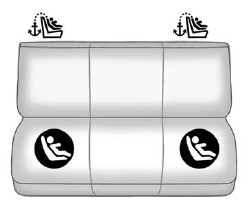 Rear Seat Ц Coupe

(Top Tether Anchor): Seating positions with top tether anchors.

(Lower Anchor): Seating positions with two lower anchors.

To assist in locating the lower anchors, each seating position with lower anchors has two labels, near the crease between the seatback and the seat cushion.
For a wagon the lower anchors are beneath zippers, near the labels.
Open the zippers to access the lower anchors.

To assist in locating the top tether anchors, the top tether anchor symbol is on the cover.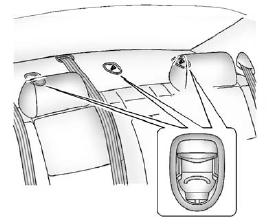 Sedan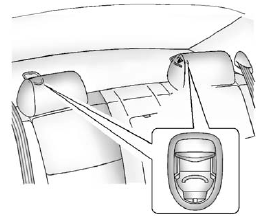 Coupe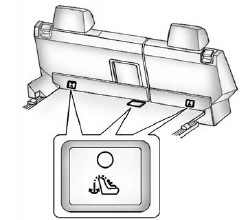 Wagon
The top tether anchors for a sedan or a coupe are under the tether covers, on the rear seatback filler panel. For the wagon, the outboard top tether anchors are under the tether covers behind the rear seatback. The wagon's center top tether anchor is under the tether cover, on the vehicle floor, behind the rear seatback.
Be sure to use an anchor on the same side of the vehicle as the seating position where the child restraint will be placed.
Do not secure a child restraint in a position without a top tether anchor if a national or local law requires that the top tether be attached, or if the instructions that come with the child restraint say that the top tether must be attached.
According to accident statistics, children and infants are safer when properly restrained in a child restraint system or infant restraint system secured in a rear seating position. See Where to Put the Restraint for additional information.
See also:
Towing the Vehicle
Notice: To avoid damage, the disabled vehicle should be towed with all four wheels off the ground. Care must be taken with vehicles that have low ground clearance and/or special equipment. Always fl ...
SBZA Detection Zones
The SBZA sensor covers a zone of approximately one lane over from both sides of the vehicle, or 3.5m(11 ft). This zone starts at each side mirror and goes back approximately 5.0 m(16 ft). T ...
Passing
More passing distance is needed when towing a trailer. Because the rig is longer, it is necessary to go farther beyond the passed vehicle before returning to the lane. ...