Cargo Cover (Wagon)
The cargo cover can be used to cover items in the cargo area.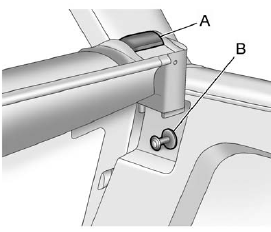 To install the cargo cover:
1. Hold the cartridge with the pull-out shade toward the rear of the vehicle.
2. Align the cartridge over the pin (B) on both sides. Press the cartridge down and turn it slightly forward until it clicks.
3. The cartridge is properly installed if it fits firmly when pulled and pushed.
4. Grasp the handle and unroll the cover. Latch the posts into the sockets.
To remove the cargo cover:
1. Release the cover from the latch posts and carefully roll it back up.
2. Pull the handle (A) back and remove it from the pin (B) on the trim panel. Repeat this on the other side.
WARNING!
An unsecured cargo cover could strike people in a sudden stop or turn, or in a crash. Store the cargo cover securely or remove it from the vehicle.
See also:
STABILITRAK OFF
This message displays when you turn off StabiliTrak, or when the stability control system has been automatically disabled. The TCS/StabiliTrak warning light on the instrument panel cluster al ...
Selecting an XM Channel
XM channels can be selected by using SEEK, SEEK, the TUNE knob, or the menu system. Selecting a Channel Using SEEK or SEEK (Radio with CD) - Press and release SEEK or SEEK to go to the previou ...
Loss of Control
Skidding There are three types of skids that correspond to the vehicle's three control systems: - Braking Skid — wheels are not rolling. - Steering or Cornering Skid — too much speed or steeri ...