Cargo Cover (Wagon)
The cargo cover can be used to cover items in the cargo area.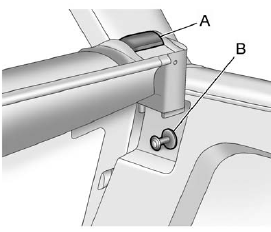 To install the cargo cover:
1. Hold the cartridge with the pull-out shade toward the rear of the vehicle.
2. Align the cartridge over the pin (B) on both sides. Press the cartridge down and turn it slightly forward until it clicks.
3. The cartridge is properly installed if it fits firmly when pulled and pushed.
4. Grasp the handle and unroll the cover. Latch the posts into the sockets.
To remove the cargo cover:
1. Release the cover from the latch posts and carefully roll it back up.
2. Pull the handle (A) back and remove it from the pin (B) on the trim panel. Repeat this on the other side.
WARNING!
An unsecured cargo cover could strike people in a sudden stop or turn, or in a crash. Store the cargo cover securely or remove it from the vehicle.
See also:
Distinctive design
Escalade has a sleeker, cleaner and more athletic form with improved aerodynamics while appearing smaller in stature. It is instantly identifiable and incorporates styling cues from the landmark S ...
How to Reset the Engine Oil Life System
Reset the system whenever the engine oil is changed so that the system can calculate the next engine oil change. Always reset the engine oil life to 100% after every oil change. It will not reset ...
What to Use
When windshield washer fluid needs to be added, be sure to read the manufacturer's instructions before use. Use a fluid that has sufficient protection against freezing in an area where the tem ...