Installing the Crossrails
A. Crossrails
B. Siderail Cover
Before installing the crossrails (A), remove the siderail covers (B). Pull straight up on the rear of the siderail cover. Store covers flat, do not stack items on them.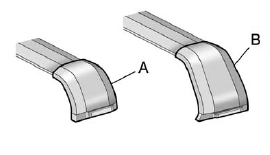 1. Identify the front and rear crossrail.
2. The front crossrail (A) is smaller than the rear crossrail (B).
3. The crossrail supports are labeled with an arrow (B) that needs to point toward the front of the vehicle. A pin (A) will be visible on the bottom when the crossrail support lever is down.
To install the crossrail support, move the lever into the forward upper position; the pin (A) will not be visible.

4. Locate the forward or rearward cut-out in the siderail channel.
5. Insert both crossrail ends into the cut-outs, making sure the arrows are pointed toward the front of the vehicle.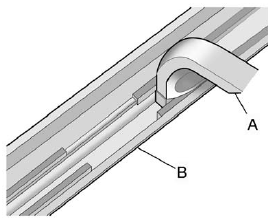 6. Levers must still be in the forward up position. Move the front crossrail forward beyond the cut-out area (B). For the rear crossrail, slide the crossrail assembly (A) rearward until the entire crossrail support is in first position beyond the channel cut-out area (B).
7. Move the levers on both crossrails to the down position.
Slide the crossrail until the crossrail pin engages.
8. The crossrails should lock in the same hole position on each side.
See also:
Storing a Flat or Spare Tire and Tools
WARNING Storing a jack, a tire, or other equipment in the passenger compartment of the vehicle could cause injury. In a sudden stop or collision, loose equipment could strike someone. Store all th ...
Under the Hood
The Escalade ESV uses the same engine as does the regular Escalade: a 6.2-liter V-8 with 403 horsepower and 417 pounds-feet of torque. It works through a six-speed automatic transmission. Towing ...
Starting the Engine
When first starting the vehicle, the engine idle speed will be elevated to allow the catalytic converter, an emissions control device, to quickly reach operating temperature. After approximat ...