Installing the Crossrails
A. Crossrails
B. Siderail Cover
Before installing the crossrails (A), remove the siderail covers (B). Pull straight up on the rear of the siderail cover. Store covers flat, do not stack items on them.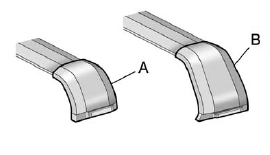 1. Identify the front and rear crossrail.
2. The front crossrail (A) is smaller than the rear crossrail (B).
3. The crossrail supports are labeled with an arrow (B) that needs to point toward the front of the vehicle. A pin (A) will be visible on the bottom when the crossrail support lever is down.
To install the crossrail support, move the lever into the forward upper position; the pin (A) will not be visible.

4. Locate the forward or rearward cut-out in the siderail channel.
5. Insert both crossrail ends into the cut-outs, making sure the arrows are pointed toward the front of the vehicle.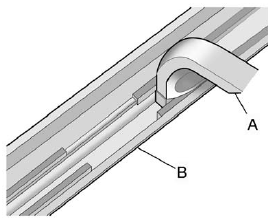 6. Levers must still be in the forward up position. Move the front crossrail forward beyond the cut-out area (B). For the rear crossrail, slide the crossrail assembly (A) rearward until the entire crossrail support is in first position beyond the channel cut-out area (B).
7. Move the levers on both crossrails to the down position.
Slide the crossrail until the crossrail pin engages.
8. The crossrails should lock in the same hole position on each side.
See also:
Reverse Tilt Mirror
This allows you to turn the reverse tilt mirror feature on or off. When on, both the driver and passenger mirrors will tilt downward when vehicle is shifted to R (Reverse) to improve visibility of t ...
Creating an MP3/WMA Disc
When creating an MP3/WMA disc: - Make sure the MP3/WMA files are recorded on a CD–R or CD–RW disc. - Do not mix standard audio and MP3/WMA files on one disc. - Make sure the CD does not hav ...
Battery Replacement
Notice: When replacing the battery, do not touch any of the circuitry on the transmitter. Static from your body could damage the transmitter. 1. Remove the key from the transmitter by pres ...