Windshield Wiper/Washer


Sedan and Coupe Model Shown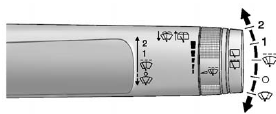 Wagon Model Shown
The windshield wiper lever is on the right side of the steering column.
Move the windshield wiper lever to select the wiper speed.

(Mist): Single wipe, briefly move the lever down and release.
Several wipes, hold the lever down.

(Off): Turns the wipers off.

(Adjustable Interval Wipes):
For a delayed wiping cycle. Turn the band up for more frequent wipes or down for less frequent wipes.
1: Slow wipes.
2: Fast wipes.
If the windshield wipers are in use for about six seconds while you are driving, the exterior lamps come on automatically if the exterior lamp control is in AUTO. See "Wiper Activated Headlamps" for more information.
Clear snow and ice from the wiper blades before using them. If frozen to the windshield, carefully loosen or thaw them. Damaged wiper blades should be replaced. For more information, see Wiper Blade Replacement.
Heavy snow or ice can overload the wiper motor. A circuit breaker will stop the motor until it cools down.
See also:
Warning Lights, Gauges, and Indicators
Warning lights and gauges can signal that something is wrong before it becomes serious enough to cause an expensive repair or replacement. Paying attention to the warning lights and gauges could pre ...
PARK BRAKE RELEASED
For vehicles with the electric parking brake, this message displays when the parking brake has been released from the set position. See the electric parking brake information under Parking Br ...
Chime Volume
This feature allows you to select the volume level of the chime. Press the customization button until Chime Volume appears on the DIC display. Press the set/reset button once to access the se ...