Rear Window Wiper/Washer
For vehicles with a rear window wiper/washer, the controls are on the end of the windshield wiper lever.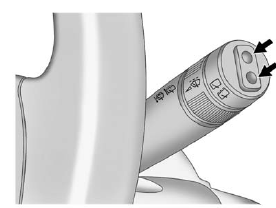 Press the upper or lower portion of the button to control the rear wiper and rear wiper delay.
The system turns off when the button is returned to the middle position.

(Rear Wiper Delay Short):
Sets a five–second delay between wipes.

(Rear Wiper Delay Long): Sets a 10–second delay between wipes.

(Rear Washer): Push the windshield wiper lever forward to spray washer fluid on the rear window. The lever returns to its starting position when released.
The windshield washer reservoir is used for the windshield and the rear window. Check the fluid level in the reservoir if either washer is not working. See Washer Fluid.
See also:
Front Fog Lamp Light
The fog lamp light comes on when the fog lamps are in use. The light goes out when the fog lamps are turned off. See Fog Lamps. ...
Going & Stopping
Again with the comparison, but the Escalade and Yukon Denali I tested have the exact same 6.2-liter V-8, yet they felt worlds apart. Sure, the Escalade is tuned to turn out 403 horsepower versus t ...
AM
The range for most AM stations is greater than for FM, especially at night. The longer range can cause station frequencies to interfere with each other. For better radio reception, most AM r ...