Headlamp Washer
For vehicles with headlamp washers they clear debris from the headlamp lenses.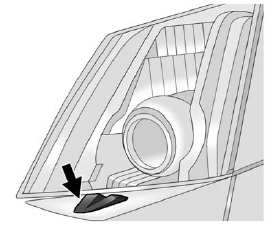 The headlamp washers are beneath the headlamps.
Press the washer button at the end of the windshield wiper lever to wash the headlamps. Both the headlamps and the windshield will be washed. After the first wash, the headlamps will not be washed until the fifth press of the windshield washer button.
The headlamps must be on to be washed. If the headlamps are off, only the windshield will be washed when the washer button is pressed.
If the washer fluid is low, the headlamp washers will not work.
See Windshield Wiper/Washer for more information.
See also:
Filling a Portable Fuel Container
WARNING! Never fill a portable fuel container while it is in the vehicle. Static electricity discharge from the container can ignite the fuel vapor. You can be badly burned and the vehicle d ...
Driving Characteristics and Towing Tips
WARNING! The driver can lose control when pulling a trailer if the correct equipment is not used or the vehicle is not driven properly. For example, if the trailer is too heavy, the brakes m ...
The Inside
Like the second-generation CTS that introduced this era of Cadillac interiors, the SRX's cabin is logically arrayed and a handsome bit of work. The controls have decent quality, and the gauges off ...