Headlamp Washer
For vehicles with headlamp washers they clear debris from the headlamp lenses.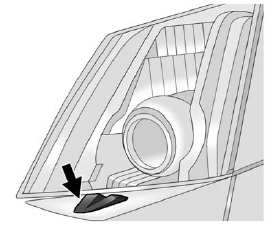 The headlamp washers are beneath the headlamps.
Press the washer button at the end of the windshield wiper lever to wash the headlamps. Both the headlamps and the windshield will be washed. After the first wash, the headlamps will not be washed until the fifth press of the windshield washer button.
The headlamps must be on to be washed. If the headlamps are off, only the windshield will be washed when the washer button is pressed.
If the washer fluid is low, the headlamp washers will not work.
See Windshield Wiper/Washer for more information.
See also:
Tire Sealant and Compressor Kit
WARNING Idling a vehicle in an enclosed area with poor ventilation is dangerous. Engine exhaust may enter the vehicle. Engine exhaust contains carbon monoxide (CO) which cannot be seen or smelled. ...
Initial Drive Information
This section provides a brief overview about some of the important features that may or may not be on your specific vehicle. For more detailed information, refer to each of the features which can ...
Conversions and Add-Ons
Add-On Electrical Equipment Notice: Do not add anything electrical to the vehicle unless you check with your dealer first. Some electrical equipment can damage the vehicle and the damage would no ...