Engine Oil Pressure Gauge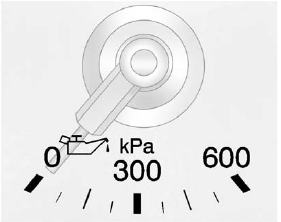 Metric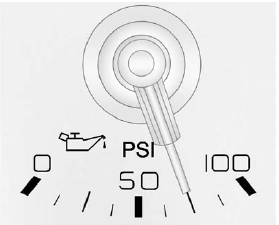 English
For vehicles with an engine oil pressure gauge, it shows the engine oil pressure in kPa (kilopascals) or psi (pounds per square inch) when the engine is running.
Oil pressure may vary with engine speed, outside temperature, and oil viscosity, but if readings are outside the normal operating range, the oil pressure light will come on.
See Engine Oil Pressure Light for more information.
A reading outside the normal operating range may be caused by a dangerously low oil level or some other problem causing low oil pressure. Oil should be checked as soon as possible. See Oil Pressure Low Stop Engine under Engine Oil Messages and Engine Oil.
WARNING!
Do not keep driving if the oil pressure is low. The engine can become so hot that it catches fire.
Someone could be burned. Check the oil as soon as possible and have the vehicle serviced.
Notice: Lack of proper engine oil maintenance can damage the engine. Driving with the engine oil low can also damage the engine. The repairs would not be covered by the vehicle warranty.
Check the oil level as soon as possible. Add oil if required, but if the oil level is within the operating range and the oil pressure is still low, have the vehicle serviced. Always follow the maintenance schedule for changing engine oil.
See also:
Power Windows
WARNING! Leaving children in a vehicle with the keys is dangerous for many reasons. Children or others could be badly injured or even killed. They could operate the power windows or other co ...
Setting the Clock
The navigation system time and the analog clock operate independently. Changing the time through the navigation system does not change the time on the analog clock. See Clock to change ...
When to Change Engine Oil
This vehicle has a computer system that indicates when to change the engine oil and filter. This is based on a combination of factors which include engine revolutions, engine temperature, an ...