Automatic Headlamp System
When it is dark enough outside, the automatic headlamp system turns on the headlamps at the normal brightness, along with the taillamps, sidemarker, parking lamps, and the instrument panel lights. The radio lights will also be dim.
To turn off the automatic headlamp system, turn the exterior lamps switch to the off position and then release it.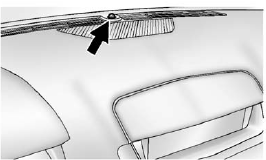 The vehicle has a light sensor located on the top of the instrument panel in the defroster grille which regulates when the automatic headlamps turn on. Do not cover the sensor, otherwise the headlamps will come on whenever the ignition is on.
The system may also turn on the headlamps when driving through a parking garage, heavy overcast weather, or a tunnel. This is normal.
If the vehicle is started in a dark garage, the automatic headlamp system will come on immediately.
Once the vehicle leaves the garage, it takes approximately one minute for the automatic headlamp system to change if it is bright enough outside. During that delay, the instrument panel cluster may not be as bright as usual. Make sure the instrument panel brightness control is in the full bright position.
See Instrument Panel Illumination Control.
To idle the vehicle with the automatic headlamp system off, turn the control to the off position.
The headlamps will also stay on after you exit the vehicle.
This feature can be programmed using the Driver Information Center (DIC). See Vehicle Personalization.
The regular headlamp system can be turned on when needed.
See also:
Using the Uplevel RSE On-Screen Display (OSD) Menus
Use the OSD setup display menus for: . General Setup . Audio Setup . Quality Setup . Preference Setup To use the OSD menus while using the DVD player or an auxiliary device: 1. Press the SETUP b ...
Vehicle Identification Number (VIN)
Vehicle Identification Number (VIN) This legal identifier is in the front corner of the instrument panel, on the left side of the vehicle. It can be seen through the windshield from outside ...
2013 Cadillac ATS Review
Topping out third gear I've got just enough time to think about grabbing fourth when the first braking marker is past my front tire and I'm pushing hard on the four piston Brembos. The lightest ca ...