Turn and Lane-Change Signals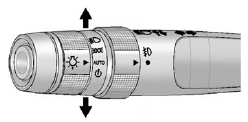 An arrow on the instrument panel cluster flashes in the direction of the turn or lane change.
Move the lever all the way up or down to signal a turn.
Raise or lower the lever until the arrow starts to flash to signal a lane change. Hold it briefly until the lane change is complete. The arrow will automatically flash three times.
The lever returns to its starting position when it is released.
If after signaling a turn or lane change the arrow flashes rapidly or does not come on, a signal bulb may be burned out.
Have the bulbs replaced. If the bulb is not burned out, check the fuse.
See Fuses and Circuit Breakers.
Turn Signal On Chime
If the turn signal is left on for about 1.6 km (1 mi), a warning chime will sound and the TURN SIGNAL ON message will appear on the Driver Information Center (DIC) display.
See "Turn Signal On" under Lamp Messages for more information.
See also:
TPMS Malfunction Light and Message
The TPMS will not function properly if one or more of the TPMS sensors are missing or inoperable. When the system detects a malfunction, the low tire warning light flashes for about one minut ...
California Proposition 65 Warning
Most motor vehicles, including this one, contain and/or emit chemicals known to the State of California to cause cancer and birth defects or other reproductive harm. Engine exhaust, many parts and ...
Escalade in the Market
GM has managed to build the best Escalade to date, but I'm still torn as to where it rates in the still-growing luxury SUV segment. If you have this kind of money and want to be seen in a fancy SU ...