Dual Automatic Climate Control System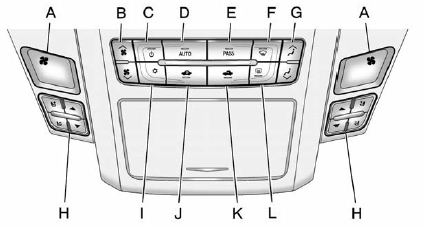 Dual Automatic Climate Control System
The heating, cooling, and ventilation for the vehicle can be controlled with this system.
A. Display
B. Fan
C. Power
D. AUTO (Automatic Operation)
E. PASS (Passenger Climate Control)
F. Defrost
G. Air Delivery Mode
H. Temperature and Heated/Ventilated Seat
I. Air Conditioning
J. Recirculation
K. Outside Air
L. Rear Window Defogger
See also:
Power Outlets
Accessory power outlets can be used to plug in electrical equipment, such as a cell phone or MP3 player. There are three accessory power outlets. The power outlets located below the climate c ...
Safety and security
The '07 Escalade is designed to be among the industry's safest and most secure vehicles, with numerous safety systems and crash-avoidance technologies. New occupant protection features include hea ...
Recommended Fuel
Use regular unleaded gasoline with a posted octane rating of 87 or higher. If the octane rating is less than 87, an audible knocking noise, commonly referred to as spark knock, might be heard when d ...