Dual Automatic Climate Control System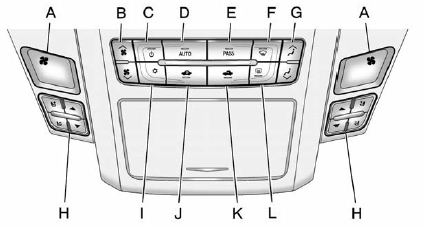 Dual Automatic Climate Control System
The heating, cooling, and ventilation for the vehicle can be controlled with this system.
A. Display
B. Fan
C. Power
D. AUTO (Automatic Operation)
E. PASS (Passenger Climate Control)
F. Defrost
G. Air Delivery Mode
H. Temperature and Heated/Ventilated Seat
I. Air Conditioning
J. Recirculation
K. Outside Air
L. Rear Window Defogger
See also:
Dual Automatic Climate Control System
A. Fan Control B. Power C. AUTO (Automatic Operation) D. ZONE E. Defrost F. Air Delivery Mode Control G. Driver and Passenger Temperature Controls H. Driver and Passenger Heated and Ventila ...
Tow/Haul Mode
The vehicle has a Tow/Haul Mode. The Tow/Haul Mode adjusts the transmission shift pattern to reduce shift cycling, providing increased performance, vehicle control, and transmission cooling when ...
Defensive Driving
Defensive driving means "always expect the unexpected." The first step in driving defensively is to wear the safety belt. See Safety Belts. - Assume that other road users (pedestrians, bicycl ...