Fuel
Use of the recommended fuel is an important part of the proper maintenance of this vehicle. To help keep the engine clean and maintain optimum vehicle performance, we recommend the use of gasoline advertised as TOP TIER Detergent Gasoline.
Look for the TOP TIER label on the fuel pump to ensure gasoline meets enhanced detergency standards developed by auto companies. A list of marketers providing TOP TIER Detergent Gasoline can be found at www.toptiergas.com.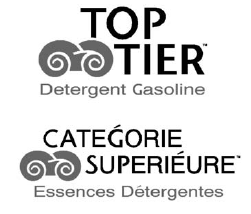 The eighth digit of the Vehicle Identification Number (VIN) shows the code letter or number that identifies the vehicle's engine.
The VIN is at the top left of the instrument panel. See Vehicle Identification Number (VIN).
See also:
Full-Size Spare Tire
If this vehicle came with a full-size spare tire, it was fully inflated when new, however, it can lose air over time. Check the inflation pressure regularly. See Tire Pressure and Vehi ...
Ending a Call
Turn or press the MENU/SELECT knob and select Hang Up. ...
Cargo & Towing
Just like the Yukon, the Escalade's cargo configuration is less than optimal, but for four passengers on a weekend trip it was great. Three overnight bags, two golf bags and a garment bag on top a ...