Fuel
Use of the recommended fuel is an important part of the proper maintenance of this vehicle. To help keep the engine clean and maintain optimum vehicle performance, we recommend the use of gasoline advertised as TOP TIER Detergent Gasoline.
Look for the TOP TIER label on the fuel pump to ensure gasoline meets enhanced detergency standards developed by auto companies. A list of marketers providing TOP TIER Detergent Gasoline can be found at www.toptiergas.com.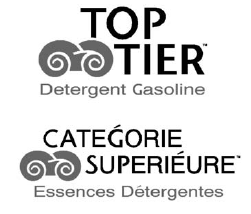 The eighth digit of the Vehicle Identification Number (VIN) shows the code letter or number that identifies the vehicle's engine.
The VIN is at the top left of the instrument panel. See Vehicle Identification Number (VIN).
See also:
Finish Care
Application of aftermarket clearcoat sealant/wax materials is not recommended. If painted surfaces are damaged, see your dealer to have the damage assessed and repaired. Foreign materials such as ...
How to Reset the Engine Oil Life System
Reset the system whenever the engine oil is changed so that the system can calculate the next engine oil change. To reset the system: 1. Using the DIC MENU button, display OIL LIFE REMAININ ...
Remote Control Buttons
POWER: Press to turn the Headrest DVD RSE system on and off. SOURCE: Press to select between Monitor 3, Monitor 4, or AV INPUT. Any video equipment connected to the AV inputs automatically overri ...