All-Wheel Drive
If your vehicle is equipped with all-wheel-drive, this is an additional system that needs lubrication.
Transfer Case
When to Check Lubricant
It is not necessary to regularly check the transfer case fluid unless you suspect there is a leak or you hear an unusual noise. A fluid loss could indicate a problem. Have it inspected and repaired.
How to Check Lubricant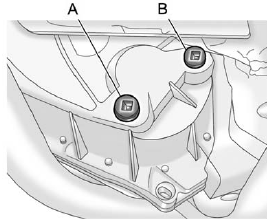 A. Drain Plug
B. Fill Plug
To get an accurate reading, the vehicle should be on a level surface.
If the level is below the bottom of the filler plug hole, located on the transfer case, you'll need to add some lubricant. Add enough lubricant to raise the level to the bottom of the filler plug hole.
Use care not to overtighten the plug.
What to Use
Refer to the Maintenance Schedule to determine what kind of lubricant to use. See Recommended Fluids and Lubricants.
See also:
Collision Damage Repair (U.S. and Canada)
If the vehicle is involved in a collision and it is damaged, have the damage repaired by a qualified technician using the proper equipment and quality replacement parts. Poorly performed collision ...
Passenger Safety Belt Reminder Light
When the vehicle is started this light flashes and a chime may come on to remind the front passenger to fasten their safety belt. Then the light stays on solid until the belt is buckled. This ...
Filling a Portable Fuel Container
WARNING Never fill a portable fuel container while it is in the vehicle. Static electricity discharge from the container can ignite the fuel vapor. You can be badly burned and the vehicle da ...