All-Wheel Drive
If your vehicle is equipped with all-wheel-drive, this is an additional system that needs lubrication.
Transfer Case
When to Check Lubricant
It is not necessary to regularly check the transfer case fluid unless you suspect there is a leak or you hear an unusual noise. A fluid loss could indicate a problem. Have it inspected and repaired.
How to Check Lubricant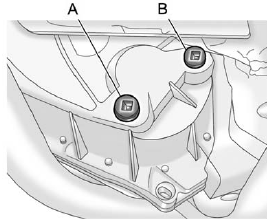 A. Drain Plug
B. Fill Plug
To get an accurate reading, the vehicle should be on a level surface.
If the level is below the bottom of the filler plug hole, located on the transfer case, you'll need to add some lubricant. Add enough lubricant to raise the level to the bottom of the filler plug hole.
Use care not to overtighten the plug.
What to Use
Refer to the Maintenance Schedule to determine what kind of lubricant to use. See Recommended Fluids and Lubricants.
See also:
Head Restraints
WARNING With head restraints that are not installed and adjusted properly, there is a greater chance that occupants will suffer a neck/ spinal injury in a crash. Do not drive until the head ...
PARKING ASSIST OFF
After the vehicle has been started, this message displays to remind the driver that the URPA system has been turned off. This message also displays when there is a temporary condition causin ...
Brakes
Brakes stop the vehicle and are crucial to safe driving. - Signs of brake wear may include chirping, grinding, or squealing noises, or difficulty stopping. - Trained dealer technicians have ...