All-Wheel Drive
If your vehicle is equipped with all-wheel-drive, this is an additional system that needs lubrication.
Transfer Case
When to Check Lubricant
It is not necessary to regularly check the transfer case fluid unless you suspect there is a leak or you hear an unusual noise. A fluid loss could indicate a problem. Have it inspected and repaired.
How to Check Lubricant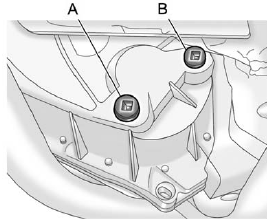 A. Drain Plug
B. Fill Plug
To get an accurate reading, the vehicle should be on a level surface.
If the level is below the bottom of the filler plug hole, located on the transfer case, you'll need to add some lubricant. Add enough lubricant to raise the level to the bottom of the filler plug hole.
Use care not to overtighten the plug.
What to Use
Refer to the Maintenance Schedule to determine what kind of lubricant to use. See Recommended Fluids and Lubricants.
See also:
Washer Fluid Messages
WASHER FLUID LOW ADD FLUID This message displays when the vehicle is low on windshield washer fluid. Refill the windshield washer fluid reservoir as soon as possible. See Washer Fluid for ...
Introduction
The names, logos, emblems, slogans, vehicle model names, and vehicle body designs appearing in this manual including, but not limited to, GM, the GM logo, CADILLAC, the CADILLAC Crest and Wreath ...
Using UHP with Infotainment Controls
Pairing a Phone If your mobile phone has simple pairing or auto discovery features, they need to be turned off before the mobile phone can be paired to the UHP system. Reference the mobile phone ...