Tire Designations
Tire Size
The following is an example of a typical passenger vehicle tire size.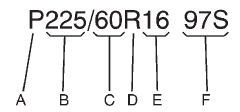 (A) Passenger (P–Metric) Tire:
The United States version of a metric tire sizing system.
The letter P as the first character in the tire size means a passenger vehicle tire engineered to standards set by the U.S. Tire and Rim Association.
(B) Tire Width: The three–digit number indicates the tire section width in millimeters from sidewall to sidewall.
(C) Aspect Ratio: A two–digit number that indicates the tire height–to–width measurements.
For example, if the tire size aspect ratio is 60, as shown in item C of the illustration, it would mean that the tire's sidewall is 60 percent as high as it is wide.
(D) Construction Code:
A letter code is used to indicate the type of ply construction in the tire. The letter R means radial ply construction; the letter D means diagonal or bias ply construction; and the letter B means belted–bias ply construction.
(E) Rim Diameter: Diameter of the wheel in inches.
(F) Service Description: These characters represent the load index and speed rating of the tire. The load index represents the load carrying capacity a tire is certified to carry. The speed rating is the maximum speed a tire is certified to carry a load.
See also:
Hands-Free Calling
1. Push . System responds: "OnStar ready.". 2. Say "Dial." System responds: "Please say the name or number to call.". 3. Say the entire number without pausing, including a "1" and the area c ...
Parking Brake
Set the parking brake by holding the regular brake pedal down, then pushing down the parking brake pedal. If the ignition is on, the brake system warning light will come on. See Brake System Wa ...
Finish Care
Application of aftermarket clearcoat sealant/wax materials is not recommended. If painted surfaces are damaged, see your dealer to have the damage assessed and repaired. Foreign materials su ...