Heated Steering Wheel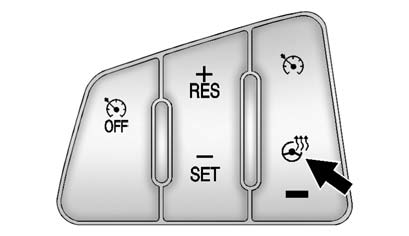 For vehicles with a heated steering wheel, the button for this feature is located on the steering wheel.

(Heated Steering Wheel): Press to turn the heated steering wheel on or off. A light on the button displays when the feature is turned on.
The steering wheel takes about three minutes to start heating.
See also:
Hazard Warning Flashers
(Hazard Warning Flasher): Press this button located on the instrument panel near the audio system, to make the front and rear turn signal lamps flash on and off. This warns others that you ...
If Steam Is Coming from the Engine Compartment
WARNING Steam from an overheated engine can burn you badly, even if you just open the hood. Stay away from the engine if you see or hear steam coming from it. Just turn it off and get everyone awa ...
Dual Mode
This dual screen symbol displays when the screen is in dual mode. Dual mode displays the route on half of the screen and a maneuver or Interstate Exit list on the other half. The Interstate Exit ...