Cadillac CTS-V
Cadillac CTS-V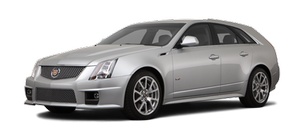 CTS-V is a 4-door, 5-passenger luxury sedan, wagon or coupe.
See also:
DIC Compass
The vehicle may have a compass in the Driver Information Center (DIC). See Compass for information. ...
Engine Coolant Heater
Vehicles with the engine coolant heater can use this option in cold weather conditions at or below −18°C (0°F) for easier starting and better fuel economy during engine warm-up. Plug i ...
When the Light Is On Steady
This indicates that one or more of the tires are significantly underinflated. A Driver Information Center (DIC) tire pressure message may also display. See Tire Messages. Stop as soon as po ...