Brake System Warning Light
The vehicle brake system consists of two hydraulic circuits.
If one circuit is not working, the remaining circuit can still work to stop the vehicle. For normal braking performance, both circuits need to be working.
If the warning light comes on, there is a brake problem. Have the brake system inspected right away.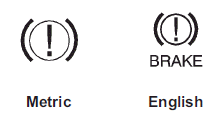 The brake indicator light should come on briefly as the engine is started. If it does not come on have the vehicle serviced by your dealer.
WARNING
The brake system might not be working properly if the brake system warning light is on.
Driving with the brake system warning light on can lead to a crash. If the light is still on after the vehicle has been pulled off the road and carefully stopped, have the vehicle towed for service.
If the light comes on while driving, a chime sounds. Pull off the road and stop. The pedal might be harder to push or go closer to the floor. It might also take longer to stop. If the light is still on, have the vehicle towed for service. See Towing the Vehicle.
See also:
Vehicle Messages
Messages displayed on the DIC indicate the status of the vehicle or some action may be needed to correct a condition. Multiple messages may appear one after another. The messages that do not requir ...
Sleeker, Smaller
The new SRX shares the current, second-generation Cadillac CTS sedan's windswept style and friendlier face, just as the outgoing SRX emulated the sharp creases and upright angles of the first-gene ...
Insuring the Vehicle
Protect your investment in the GM vehicle with comprehensive and collision insurance coverage. There are significant differences in the quality of coverage afforded by various insurance polic ...