Brake System Warning Light
The vehicle brake system consists of two hydraulic circuits.
If one circuit is not working, the remaining circuit can still work to stop the vehicle. For normal braking performance, both circuits need to be working.
If the warning light comes on, there is a brake problem. Have the brake system inspected right away.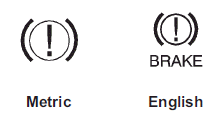 The brake indicator light should come on briefly as the engine is started. If it does not come on have the vehicle serviced by your dealer.
WARNING
The brake system might not be working properly if the brake system warning light is on.
Driving with the brake system warning light on can lead to a crash. If the light is still on after the vehicle has been pulled off the road and carefully stopped, have the vehicle towed for service.
If the light comes on while driving, a chime sounds. Pull off the road and stop. The pedal might be harder to push or go closer to the floor. It might also take longer to stop. If the light is still on, have the vehicle towed for service. See Towing the Vehicle.
See also:
Rear Passenger Cupholders
Pull down on the lid to access the cupholders in the rear floor console. Vehicles with the rear seat armrest may also contain cupholders. Pull down the armrest to use the cupholders. ...
Programming the Power Windows
If the vehicle battery has been recharged, disconnected or not working, the front power windows will need to be reprogrammed for the express-up feature to work. Before reprogramming, replace ...
Saving MEM Tracks as Favorites
Favorites can be saved by pressing and holding one of the 1 to 6 buttons. Favorites can be stored according to the following list: Playlist: Adds the currently playing track to the playlist select ...