Brake System Warning Light
The vehicle brake system consists of two hydraulic circuits.
If one circuit is not working, the remaining circuit can still work to stop the vehicle. For normal braking performance, both circuits need to be working.
If the warning light comes on, there is a brake problem. Have the brake system inspected right away.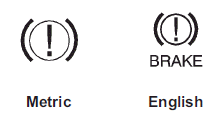 The brake indicator light should come on briefly as the engine is started. If it does not come on have the vehicle serviced by your dealer.
WARNING
The brake system might not be working properly if the brake system warning light is on.
Driving with the brake system warning light on can lead to a crash. If the light is still on after the vehicle has been pulled off the road and carefully stopped, have the vehicle towed for service.
If the light comes on while driving, a chime sounds. Pull off the road and stop. The pedal might be harder to push or go closer to the floor. It might also take longer to stop. If the light is still on, have the vehicle towed for service. See Towing the Vehicle.
See also:
Clock
The analog clock is not connected with any other vehicle system and runs by itself. To adjust the clock, do the following: 1. Locate the adjustment button, near the lower left corner of the clock. ...
Entry Lighting
The headlamps, taillamps, license plate lamps, back–up lamps, dome lamps, and most of the interior lights turn on briefly when the Remote Keyless Entry (RKE) is pressed, or when the door ha ...
Immobilizer Operation
This vehicle has a passive theft-deterrent system. The system does not have to be manually armed or disarmed. The vehicle is automatically immobilized when the vehicle is turned off. The immo ...