Brake System Warning Light
The vehicle brake system consists of two hydraulic circuits.
If one circuit is not working, the remaining circuit can still work to stop the vehicle. For normal braking performance, both circuits need to be working.
If the warning light comes on, there is a brake problem. Have the brake system inspected right away.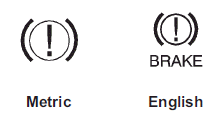 The brake indicator light should come on briefly as the engine is started. If it does not come on have the vehicle serviced by your dealer.
WARNING
The brake system might not be working properly if the brake system warning light is on.
Driving with the brake system warning light on can lead to a crash. If the light is still on after the vehicle has been pulled off the road and carefully stopped, have the vehicle towed for service.
If the light comes on while driving, a chime sounds. Pull off the road and stop. The pedal might be harder to push or go closer to the floor. It might also take longer to stop. If the light is still on, have the vehicle towed for service. See Towing the Vehicle.
See also:
Muting a Call
During a call, all sounds from inside the vehicle can be muted so that the person on the other end of the call cannot hear them. To mute a call, press and then say "Mute Call." To cancel m ...
Vehicle Overview
The 2007 Cadillac Escalade EXT makes it clear that General Motors plans to continue its lineup of crossover pickup trucks. GM entered the segment five years ago with the 2002 Chevrolet Avalanche, ...
Safety Belts
This section of the manual describes how to use safety belts properly. It also describes some things not to do with safety belts. WARNING Do not let anyone ride where a safety belt cannot be wor ...